Sometimes The Lime resembles a networking event; other times it looks like a dance party. The series of multicultural events—hosted for the past two years at New York's WeWork 154 Grand St—isn't easy to categorize.
"In Caribbean culture, the 'lime' is another word for the gathering or the hangout," says Courtney Wallace, the building's community manager. "It's where you want to be."
Each event starts with a panel discussion, moves into a live performance, and ends with a party where people can enjoy a few drinks and unwind with a DJ. Wallace, a WeWork employee since 2011, started the series in 2017 after years of attending panel discussions where he "rarely saw someone like myself onstage."
"I think it puts you at ease when you see a reflection of yourself at an event like this," he says. "It wasn't a sort of Black History Month event. It was just, 'Hey, this is a networking experience, and us being here is enough.' We didn't have to be presented. We didn't have to be packaged."
Addressing homogeneity of such events has become more common in recent years—for example, there's a Tumblr account is dedicated to all-male "manels." Wallace responded to the lack of inclusion by creating an event based on the things he loved as a young adult: food, music, and great conversation. Anyone over 21 can attend a Lime event and, even better, there's no cover. Wallace's only stipulation: "We always say the admission charge is good energy."
And the energy certainly runs high, with about 100 people attending each event. Wallace says the most memorable one included Michelle Dalzon, a WeWork member who founded theBOM popup series. "You could tell—just the look in her eyes at the time—that this wasn't a person who was going to quit until she got what she wanted," he says.
Last December's musical guest, a former contestant on The Voice named Fousheé, also left a lasting impression.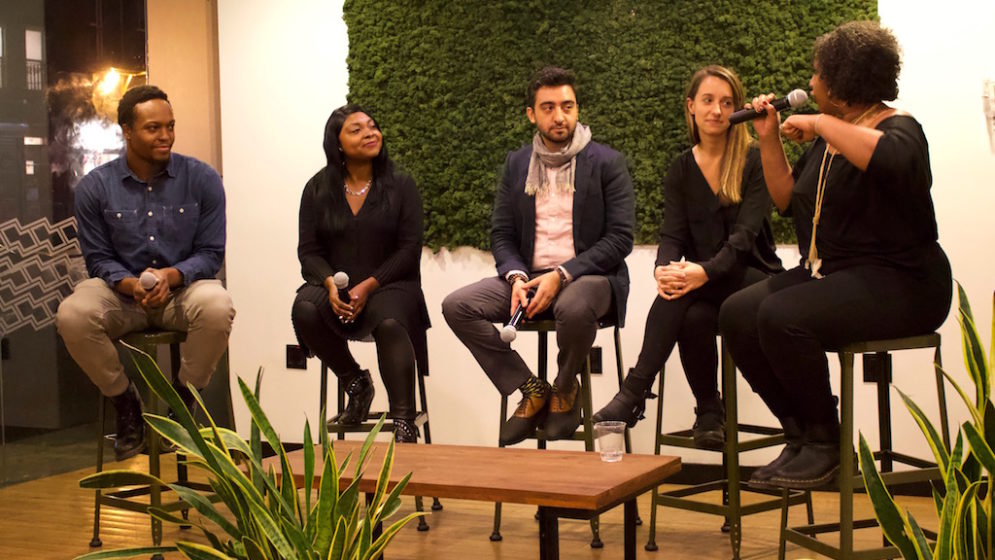 "Once she started performing, all of the musician friends she brought with her started coming on stage, freestyling and singing, and it was just amazing," Wallace says. "Then, at one point, this guy nobody really knew came onstage. She was like, 'It's cool. Let's see what he can do.' He starts doing some reggae, and the whole place erupted."
Good vibes aside, Wallace says people don't necessarily return to The Lime because of an attachment to any particular speaker, performer, or DJ. He believes the main attraction is "to come into a space and be truly who you are and who you identify as and not be judged."
For the first year-and-a-half, Wallace organized the evenings "whenever my inbox was clear." Now, with the help of community lead Damian Cruz and community manager Julissa Contreras, he runs them bimonthly. Cruz, who assists with many of the logistics, says it is hard to fully grasp the impact of the events without attending one.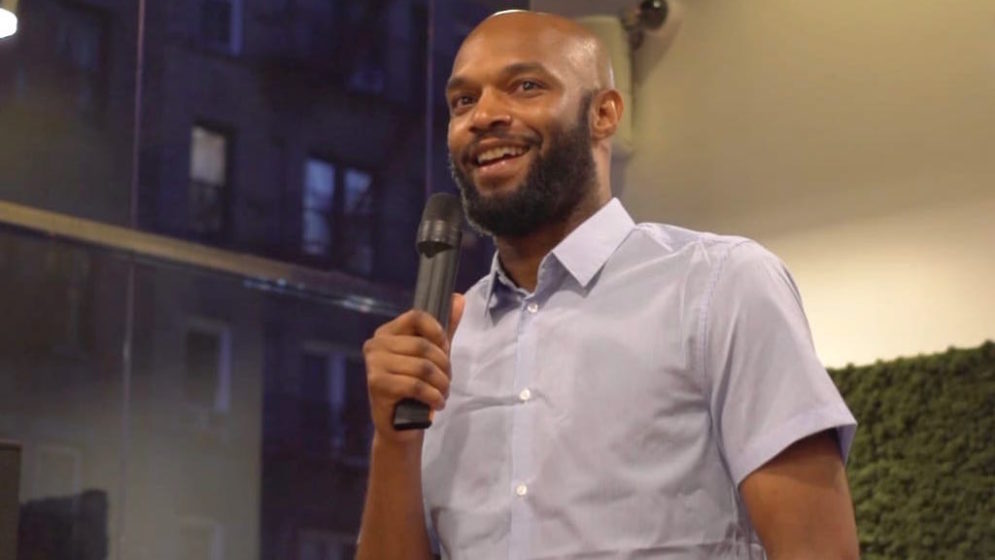 "It's like when you go to see a Broadway show and the temperature goes up, and the energy goes up, and people are crying like five minutes into the show," he says. "It's just a different level of existence. I hope that somebody who doesn't have a WeWork space comes to an event like this and sees that it offers a safe harbor."
Contreras lauds Wallace for extending the reach of The Lime while remaining true to its mission. After the first few events, he began to widen the range of people speaking on the panels.
"Courtney understood that even within a white community there are people who are marginalized, and it's important to have that highlighted," Contreras says. "Ultimately, this has become a learning tool to hear from people who are hustling out here and what they go through."
As a result, The Lime remains a multicultural event. Wallace has pulled in numerous people from his personal and professional orbit as speakers or performers. (Wallace has been a violinist for 24 years, so his musical connections abound.)
Producing the events is time-consuming, and more than once Wallace has considered calling it quits.
"However, people constantly pull me to the side and say, 'Hey, I don't think you understand how important it is to be in a room full of black and brown people who are like me,' or 'I was about to quit my job but I got dragged here by a friend and now I really feel like I can keep going and follow my dreams," says Wallace. "You really leave with your spirit filled."
The next Lime event, on Feb. 28, includes WeWork community manager Ashley Beudeker; mental health advocate Simon Jones; entrepreneur Alexis Rai Gaynor, and James Duarte, former creative director of the Dominican Film Festival. There will also be performances from singer-songwriter Meghan Irving and a DJ set by Ryan Young, the "Funky Monsieur."
"Being of service is really, really important to me," Wallace says. "If I'm brokering relationships, if I'm allowing amazing musicians to perform in a setting that's professional, and giving people the opportunity to be inspired? I can't beat that."