Year one of the Creator Awards is coming to a close, after seven cities, countless pitches, and millions of dollars in prize money going toward ideas with impact. WeWork's Creator Awards started in Washington, DC, then crisscrossed the globe, from London to Tel Aviv, bringing together creators from all walks of life: artists, entrepreneurs, scientists, nonprofit champions.
Looking back on the past year, here are seven of the most impactful moments that will keep us inspired well into 2018:
1. Women Sweep the D.C. Creator Awards
At the D.C. Creator Awards, the top three prizes went to organizations run by women. More than half of all the winning companies were founded or co-founded by women.
Just after winning $360,000 for Byte Back, Executive Director Elizabeth Lindsey walked off stage and got on her phone. "I couldn't wait to tell somebody the news," she said to the person on the other end. "You're not going to believe it."
The prize helped Byte Back continue its work providing computer training and career preparation for underserved residents of the DC area.
2. Engineer Realizes Her Impact in Detroit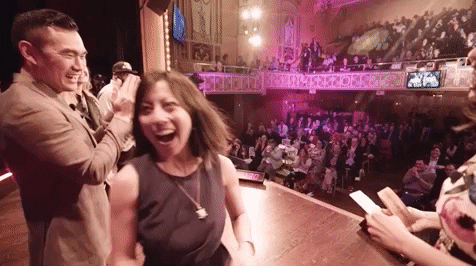 When Grace Hsia, founder of Warmilu, won $72,000 at the Detroit Creator Awards, it gave her an opportunity to think back on how far she'd come. She nearly left engineering, fearing she wasn't doing enough good in the world, but luckily one of her professors challenged students to find ways to provide heat to people in areas without electricity.
Hsia developed her class project into a company that makes safe, reusable heating packs that help regulate the body temperature of premature infants. Her product, the InstaWarmer, is currently used in hospitals and clinics in places that don't always have electric incubators, such as Kenya and Somalia. Hsia's story shows that any profession can create impact, and anyone with passion can be a creator.
3. Getting emotional with Brothers Empowered 2 Teach in Austin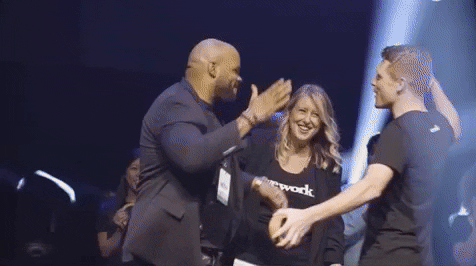 Larry Irvin doesn't hide his emotions, especially when he's winning $130,000 at the Austin Creator Awards. Irvin founded Brothers Empowered 2 Teach, which recruits men of color to explore careers in education.
"Though it is imperative that black boys start to see positive representations of black men in classrooms, it is equally important that kids of all races and ethnicities see that black men can and do teach," Irvin says.
He was all bear hugs on stage and then teared up when he shared his powerful story:
4. London prize helps company on the brink
"We were this close to running out of money," Andiamo Co-founder Naveed R. Parvez says, narrowing his fingers to barely an inch. "This is huge. We have a waiting list of over 120 children."
Andiamo started from a very personal place. Parvez's son Diamo was born with disabilities and needed orthotics to help him do everyday activities. But the orthotics took weeks or even months to complete, and sometimes Diamo had outgrown them by the time they arrived. In the wake of his son's death, Parvez wanted to change the industry to be more patient-centric, thus helping other families in similar situations. Andiamo uses 3D printing to speed up the process and create a better fit.
With the prize money he won at the London Creator Awards, Parvez (see his and others' stories in the above video) will be able to tackle that waiting list, and continue changing the lives of children.
5. Doing the impossible in Berlin
When Skateistan Founder Oliver Percovich took home the top prize at the Berlin Creator Awards, he raised his skateboard and beamed with pride.
"People told me my idea was impossible for years," he says of his nonprofit, which provides children in Afghanistan, Cambodia, and South Africa with schools and skate parks. "For me, it made sense. I saw the smile on the kids' faces."
Percovic started his organization in Afghanistan, where girls were forbidden from playing most sports. He realized, however, that skateboarding hadn't been banned. Now, the largest community of female skaters is in Afghanistan.
He's putting the money he won into building out a blueprint for helping communities that he can share with other organizations around the world.
6. Grasshoppers predicted to be the new sushi in Tel Aviv
Dror Tamir of Hargol FoodTech, the top winner at the Tel Aviv Creator Awards, has found his passion. And it's grasshoppers. He knows there's a market in many non-Western regions for his product, but he also thinks grasshoppers could make inroads in Western markets, too, saying, "I see the potential of grasshoppers becoming as common as sushi. Thirty years ago, eating raw fish also sounded disgusting in the West."
7. When the pitches were too good in NYC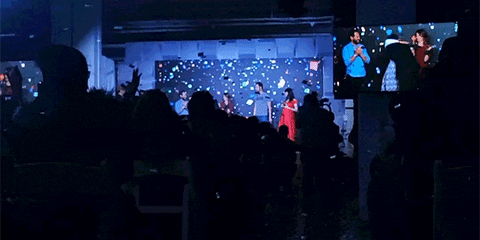 At the New York City Creator Awards, five finalists made it to the last category of the night: the Scale prize, which came with the event's largest cash prizes. Each delivered a 45-second pitch, and then the judges took a few minutes to deliberate. When the judges came back on stage, WeWork Co-founder Miguel McKelvey announced that the finalists were all so good—that they were giving prizes to all of them, a total Oprah moment.
Four finalists—LeVar Burton Kids, Oui Shave, Swipe Out Hunger, and Eat Offbeat—won $180,000, and Practice Makes Perfect walked away with the $360,000 top prize.
Not too bad for a first year. See you at the Global Finals on January 17 in New York City!