Photographers had just finished snapping a few final shots when Elizabeth Lindsey's phone rang. She quickly ducked over to one side of the room.
"I couldn't wait to tell somebody the news," she said to the person on the other end. "You're not going to believe it."
Lindsey, the executive director of Byte Back, said a few minutes later that she still couldn't believe it herself. She had just won the top prize at the kickoff event for Creator Awards. That meant $360,000 for her innovative organization, which provides computer training and career preparation for underserved residents of the Washington, D.C. area.
"This award will help us transform the work we do," Lindsey said, smiling broadly. "We'll be able to expand our training so that we can reach more adults and help them move into careers where they earn a living wage."
Lindsey was one of 25 winners at the Creator Awards, held Tuesday night at D.C.'s Mellon Auditorium. WeWork gave out the prizes, which totaled more than $1.5 million.
The top three prizes, totaling $720,000, all went to organizations run by women. More than half of all the winning companies were founded or cofounded by women.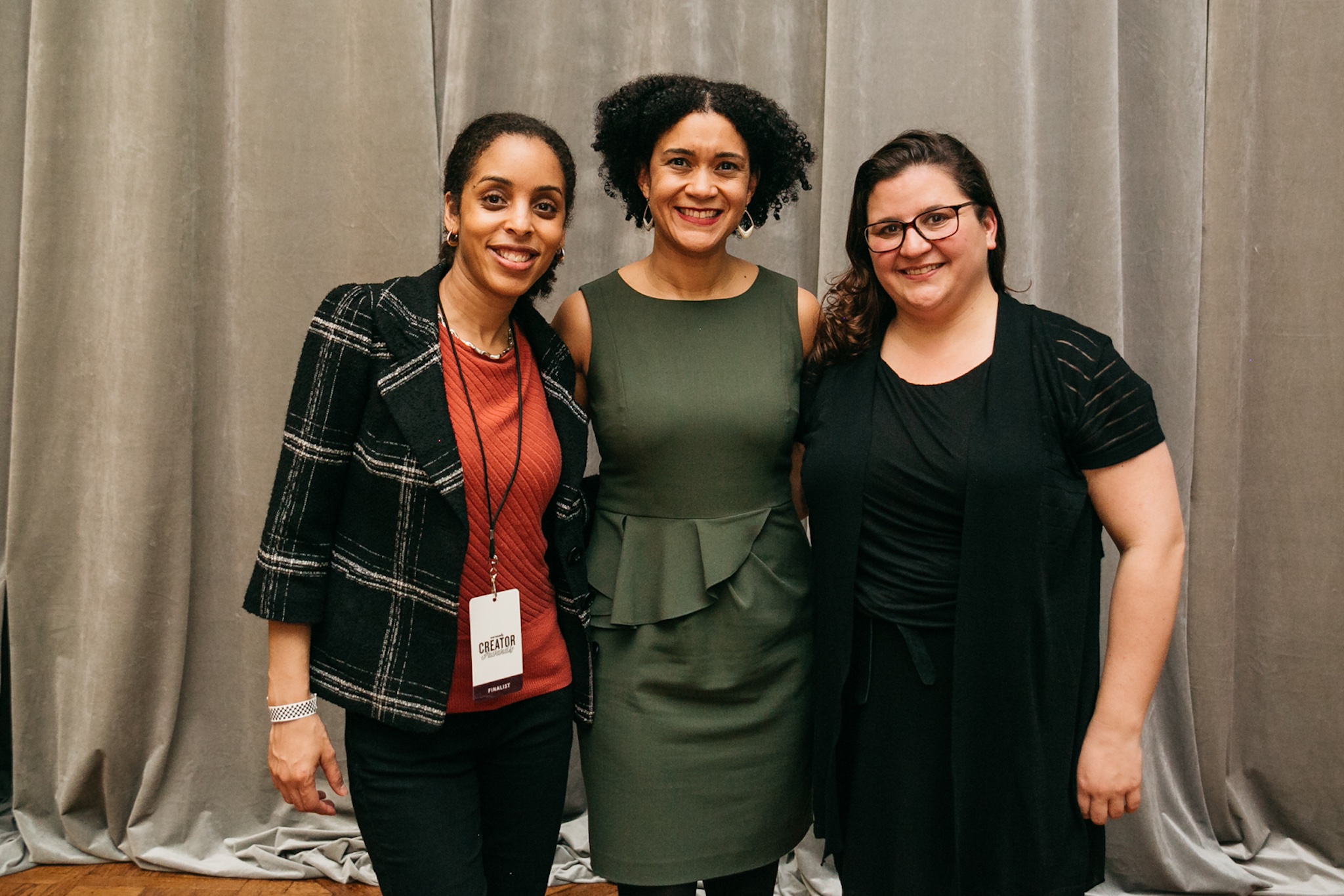 Adam Neumann, cofounder of WeWork, told the hundreds of people who gathered for the event that he intended the awards to help fund the types of entrepreneurs that aren't usually recognized.
"Chase your passion, chase your truth, and everything else will work out," he said to the crowd.
Over the course of a year, WeWork will be giving out more than $20 million at a series of events in cities spanning the globe. Subsequent Creator Awards events will take place in North America, Europe, and the Middle East. The next one is scheduled for Detroit on May 25.
Winners from each event will come together for the global finals, which will be held in New York City on November 30.
There were three categories of Creator Awards, including the Incubate Award for great ideas or specific projects that need funding, and the Launch Award for young businesses and organizations that need a little help getting off the ground. The third, the Scale Award, is for more established operations aiming to get to the next level.
In addition to Lindsey, other Scale Award winners were Kellee James of Mercaris, which works with organic and non-GMO agriculture, and Cristi Hegranes of Global Press Institute, which trains and employs female journalists from around the world.
Hegranes said she's proud of the dozens of women who've become journalists through her organization's programs.
"I employ 100 women around the world, and that's what keeps me going day and night," she said.
The winners of the Launch Awards included Quaker City Coffee, Together We Bake, Global Vision 2020, and Coral Vita.
Winning the top prize in the Launch Awards was MemoryWell, which tells the life stories of people with Alzheimer's and other forms of dementia.
"I started off by writing the story of my father, who had Alzheimer's," said Jay Newton-Small, the journalist who cofounded the organization. "And when we realized that knowing his story helped his caregivers, we knew this was something that would help others as well."
There were 17 winners in the Incubate category, including Milinda Balthrop of Filmmakers for Tomorrow Foundation, Cindy Frei of Caleb's Cooking Company, Debra Brown of Child Care Counts, Ben Melman of Booksmart Touring, Nick Delmonico of Strados, Chibueze Ihenacho of ARMR Systems, Angelina Klouthis of the Vicente Ferrer Foundation, Jes Christian of Hypsole, Charlene Brown of Reciprocare, CJ Cross of GoCraft Brewing, Ian Rinehart of Conserve With Us, Robert Fine of Cool Blue Media, Akwasi Asante of Phoenix Aid, Audrey Henson of College to Congress, Jelena S. Mishina of Shared Workshop, Karima Ladhani of Barakat Bundle, and Katie Thompson of Causeumentary.
Photos by Lauren Kallen