Diverse Founders Programme
In collaboration with Foundervine, the Diverse Founders Programme will provide virtual programming and mentoring support for start-ups in the UK and Ireland, as well as hot desk workspace for 12 months, to diverse early-stage entrepreneurs.
About the Programme
By collaborating with UK social enterprise Foundervine, we aim to break down the racial and economic barriers that ethnically diverse founders in the UK and Ireland face, and open our doors so that entrepreneurs – regardless of their background – have access to the opportunities needed to succeed.

Together, we are excited to launch our Diverse Founders Programme that will provide access to 100* WeWork Labs memberships through its community Labs platform, as well as hot desk spaces, starting in January 2021.
We celebrated the launch of the Diverse Founders Programme with an online panel event, where we discussed why it's more important than ever to support diversity and inclusion in business. Mathieu Proust, WeWork's General Manager for UK, Ireland and Emerging Markets was joined by Izzy Obeng, Foundervine's Managing Director and Kimberley Obongonyinge, winner of Foundervine's latest Startup 54 weekend, with the panel chaired by Ruvimbo Chakawhata, We of Colour Chapter Lead for WeWork EMEA.
*all hot desks are being offered for the Diverse Founders Programme; all hot desks are subject to WeWork's membership terms and conditions.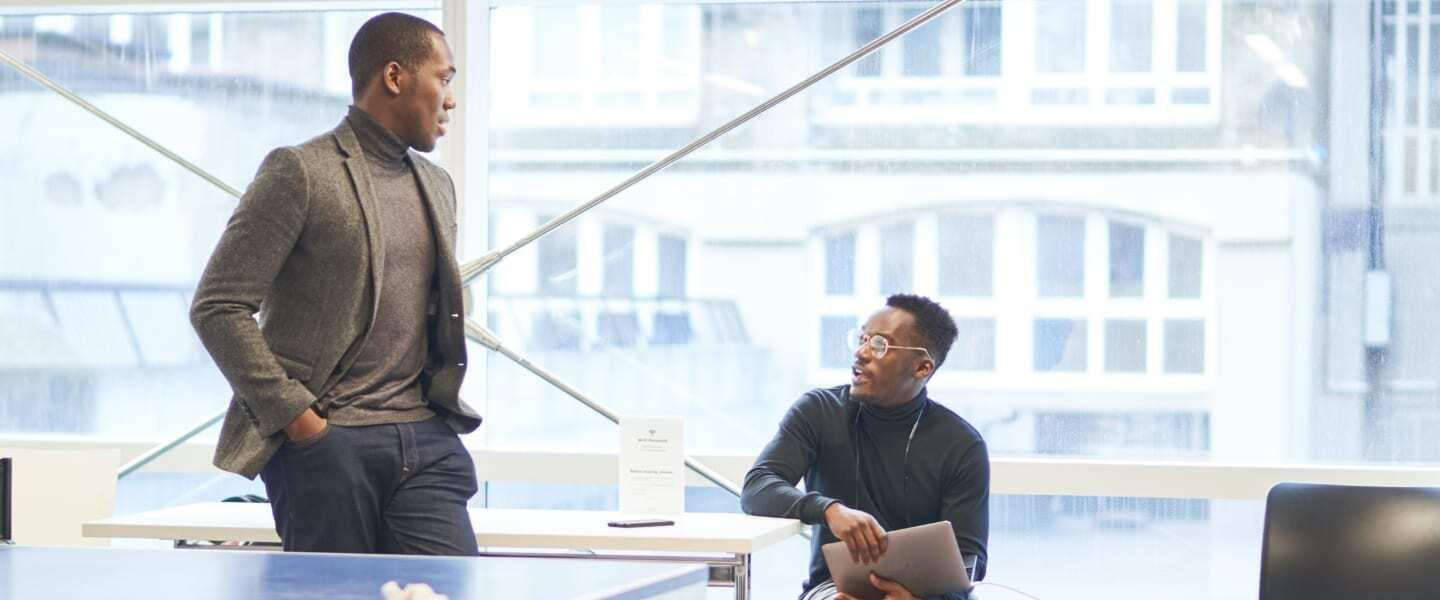 How is WeWork helping?
The founders will receive:
A community labs membership:

This will give founders online access to mentoring and coaching opportunities, customised educational programming, a global network and community, exclusive member benefits, discounts and more.
A hot desk in one of our 70 locations in the UK and Ireland:

The ultimate flexible workspace, founders will be able to work from hot desk areas in their chosen building.
A maximum of 3 hot desks will be provided to each successful start-up.
---
Who's eligible?
This application is open to:
An early stage start-up building an MVP or that has launched an MVP
An early stage start-up that has recently launched a product to market in 2020
Start-up has been established for a minimum of 3 months and located in the UK
Founding team with at least one member that identifies with an ethnically diverse background
---
How do I apply?
The application is open until:
The application window has now closed. Recipients will be chosen and notified via email by the beginning of December 2020. Apply here.
---

Who are Foundervine?
Foundervine are an award-winning social enterprise focused on running immersive entrepreneurship labs that help young people from underrepresented communities imagine, start, and grow new ventures. Since launching in 2018, Foundervine has helped over 2,000+ diverse, future leaders create, test and sustain entrepreneurial ventures in Europe.
Frustrated by a lack of diversity, Foundervine are on a mission to remove the social barriers to entrepreneurship and build the greatest network of digitally-enabled businesses in the world. They pride themselves on their ability to plan and execute programs smoothly and feed their graduates into a permanent and closely connected community platform who meet regularly, attend learning sessions, share daily thoughts, ideas, connections, opportunities, and more.
If you think your start-up is eligible please apply here
*Successful applications are subject to the applicant agreeing to WeWork's membership terms and conditions.
---
Privacy, Terms, FAQ, Cookies, UK Modern Slavery Statement and Accessibility. Copyright © 2020 WeWork Companies Inc. All rights reserved.