Welcome to Community Corner, a series highlighting the work, passions, and impact of our community teams around the world.

Ugo Mbawuike has seen a lot. In fact, he's seen every continent (except Antarctica), and almost all of them because of his job as a WeWork employee.

"Hopefully next will be Johannesburg," says Mbawuike, referring to a WeWork location scheduled to open in South Africa this fall.

Mbawuike, 37, is a community manager at WeWork's San Francisco headquarters, but you might have run into him in WeWork buildings in Los Angeles, Boston, Miami, London, São Paulo, New York City, Seoul, or Sydney. In the course of his four years with the company, he has worked at or spent time in all of these locations.

"I was in Miami on holiday and I was like, let me work for a day!" says Mbawuike, who clearly loves his job. And while he has observed first-hand that every WeWork building has things like coffee or phone booths in common, he notes that there is something unique about each of the more than 400 locations.

"When I walked into Miami, I saw palm trees on the wall—and there, in the middle of the common area were two Soul Cyclists… cycling!" he recalls, laughing. "It was so Miami Beach!"

In Seoul, during a one-week exchange at WeWork Euljiro, Mbawuike discovered that in an otherwise unfamiliar city, the amenities and common areas of the WeWork space were comfortingly the same. Still, he found a few unique aspects in every corner of the building.

"One huge conference room was devoted to games, including an indoor golf course," he recalls. Mbawuike jumped right into South Korean life, playing golf on breaks and eating live octopus and squid when general manager Matthew Shampine took the team out for dinner. "It was amazing and exhilarating," says Mbawuike, who felt like part of the team, even if just for a week. "How could I not?"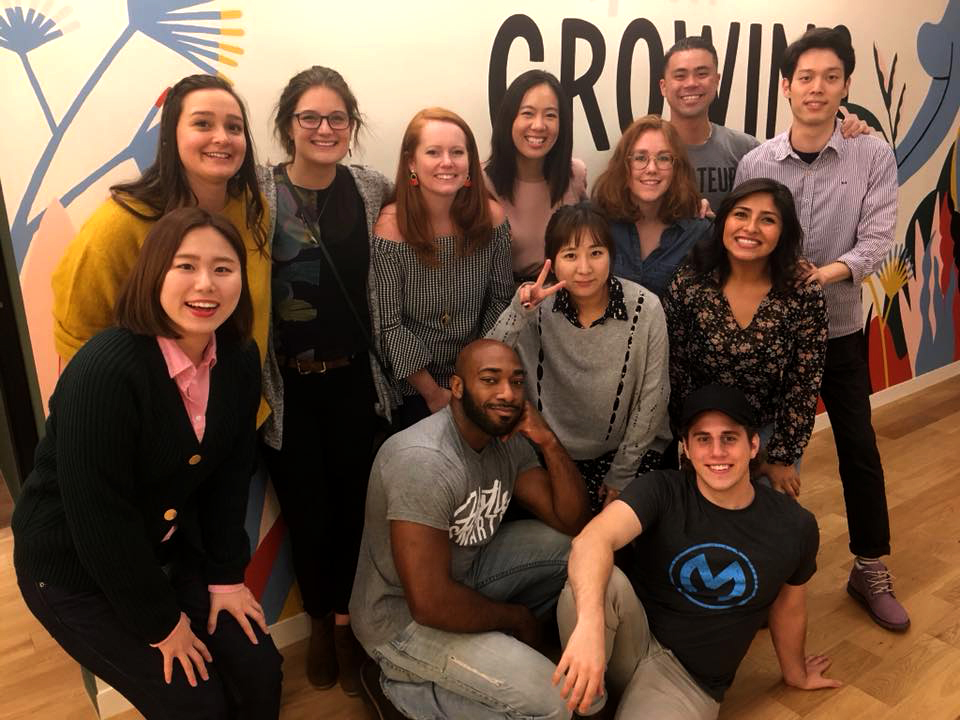 Seoul was an adventure, but Mbawuike says in Brazil he found the place he was born to be. The WeWork buildings he visited there had elaborate patios on their roofs, and he loved the feeling of community these bright, open spaces invited. "Brazilians like to have fun, to gather," he says. "I went during carnival, and I loved this feeling of togetherness, this need to celebrate."

Throughout his travels, Mbawuike appreciates that at WeWork, the company culture and local culture are perfectly woven together to create a unique, inviting space. "You don't want to go to Australia and feel like you're in Boston or New York City," he says. "But when you need to do something for work, you want it to be dependable and predictable."

We spoke to Mbawuike about the WeWork members (from anywhere on Earth) who changed his life, the people he admires, and more.

Members who influenced him most: "I come from an investment-banking background and I used to wear suits to work every day," says Mbawuike. Though WeWork has no dress code, he stuck with the shirt-and-tie look for years—until he spent time managing a building in Los Angeles. There he met members James Costa, Chanita Fondacaro, and Adriana Beltran, who run the fashion line Nifty Genius.

Mbawuike told them he needed a new look. "Essentially, they redesigned who I am," he says. His six gray-blue slacks have been replaced with jeans that fit perfectly, and the dozen white button-downs have been swapped for fun patterns that he wears under Nifty Genius slim-fit blazers.

"Now almost every day someone says to me, 'I like your style,'" says Mbawuike. "The Ugo of four years ago would not have gotten those compliments!"

Core values: All six WeWork values––inspired, entrepreneurial, authentic, tenacious, grateful, together––speak to Mbawuike. "I made an acronym for them, to keep them all in mind," he explains. If he had to pick one, it would be authenticity. "WeWork doesn't mind that I'm a little boisterous—I'm very loud and have a contagious laugh," he notes.

Favorite place in the world: Brazil, he says. "All of it, not even one specific place. I want to go to every city!" Mbawuike, who was enchanted by the weekly outdoor celebrations called blocos that are held during carnival, also appreciates that families and coworkers take time to enjoy meals together year-round.

Downtime activity: "After a long day of problem-solving and dealing with 1,000 people, the thing I want to do is release myself by going to the gym," Mbawuike says. He finds that yoga is a good counterbalance to the pressures of the day.

Dream dinner guest: Oprah Winfrey. "I've always admired that Oprah did what she loved, which is a) our tagline, and b) of note because she became so successful she made an empire out of it," says Mbawuike. He admires Oprah for knowing her superpower. "I think sometimes people are afraid to dig into their superpower; they do a normal 9-to-5 because it's safe," says Mbawuike. "But Oprah dug in. I want that to rub off on me."
Photographs by The We Company