Your vision is starting to blur. Your shoulders roll forward, pulling toward your laptop as if drawn by a magnet. Wrists hurt. Neck aches. You're itching for a break, but the deadlines keep coming.
When you don't have time for a proper vacation, or even a weekend getaway, a trip to the spa can be the best way to unwind. And some spas, recognizing the demands of a busy schedule, are targeting services towards workers who need relief. These spa treatments will help you fight the fatigue of a long week at work.
1. On-Demand Massage, Soothe
This service bills itself as the Uber for massages. But instead of dropping you off at a spa, Soothe brings the masseuse (and table, and sheets, and mood music) to you. You can book a same-day appointment ($99 to $169) via the app, and choose from Swedish, sport, deep tissue, or couples' massages. So if you're getting anxious before that big client meeting, you can unwind a bit with just an hour's notice. Best of all for those burning the midnight Wi-Fi—late night appointments are available until 12 a.m. It's available in 10 cities, including Los Angeles, Miami, and Seattle.
2. Oriental Essence Massage, Boston's Spa at Mandarin Oriental
Too many hours hunched at your laptop can leave you in a permanent shrug. The Oriental Essence treatment ($178 to $190) at Boston's Spa at Mandarin Oriental was developed to relieve stress in your shoulders and back. Relaxation begins when you walk into the five-star facility and trade in your shoes for slippers. The 60-minute massage incorporates the spa's signature warming oil and can range from soothing to targeted tension release, depending on your preference.
3. Deep Tissue Hand Massage, Portland's Dosha
Who says backs and necks bear all the office strain? Phone, tablet, and laptop overload can leave your hands and arms more strained that you realize. At Dosha, a locally owned Aveda spa chain in Portland, Oregon, tired typers can get a deep tissue massage ($85 to $145) that focuses on the hands and arms. The treatment releases toxins built up in the muscles and helps improve circulation in the hands.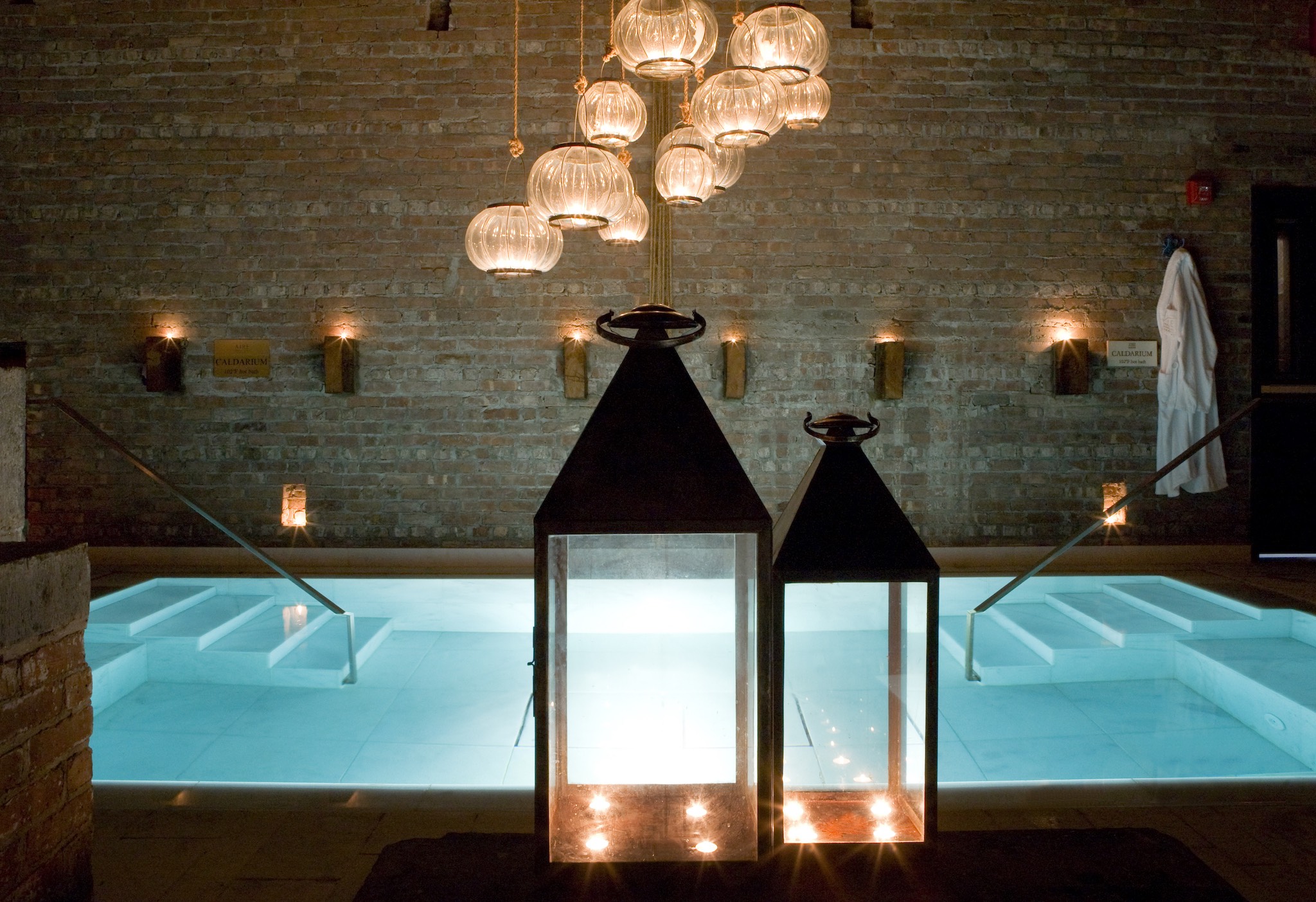 4. Red Wine Ritual, New York's Aire Ancient Baths
Wind down your week with wine—but not in a glass. The Red Wine Ritual ($500 to $550) at Manhattan's Aire Ancient Baths features a half-hour soak in a wine bath from tempranillo grapes. After you absorb the antioxidants in the tub, two therapists go to work; when you're really stressed, four hands are better than two. You'll get wrapped in a grape seed body wrap and scrubbed with a grape seed exfoliating toner. Linger after the treatment for a 90-minute thermal session in Aire's multi-temperature pools.
5. Express De Stress, Washington's Spa on the Hill
Okay, so de-stressing in a hurry sounds a bit counter-intuitive. But let's face it: sometimes you can't spare a whole afternoon, or even an hour. Enter Spa on the Hill's Express De Stress treatment ($50), a 30-minute massage that hones in on the areas you need worked out. Unlike the day spas in many Washington, D.C. hotels, this one's located in a converted townhouse near Capitol Hill's quaint Eastern Market, so it's easy to get in and get out without hassle.
Main photo: Lauren Kallen