At the beginning of the year, we committed ourselves to amplifying the impact we could bring to our members, our communities, and each other. As we move toward the end of 2018, we reflect humbly on our global growth and on what we were able to achieve together all around the world as a result.
WeWork is now in 99 cities and 26 countries, and our community has grown to reach 400,000 members across 400 locations globally. Just eight years ago, we had one location in Soho, New York City; now, we're the largest private occupier of space in London, Washington, D.C., and Manhattan. Membership of companies with more than 1,000 employees increased nearly 200 percent and now represents more than 30 percent of WeWork's community. This growth inspired us to launch Powered by We and Headquarters by We, and to acquire Conductor to humanize marketing. Meetup reached more than 42 million registered users and convened more than 4 million events, tripling the number hosted in WeWork locations. We incubated more than 1,000 startups in 33 cities with WeWork Labs, scaled Flatiron School to four new cities, and opened Access Labs to expand opportunity to coding education. Finally, inspired by the mission to unleash every human's superpower, we launched WeGrow with an unbelievable welcome not just from parents and children, but from people all over the world who are yearning for this transformative approach to education.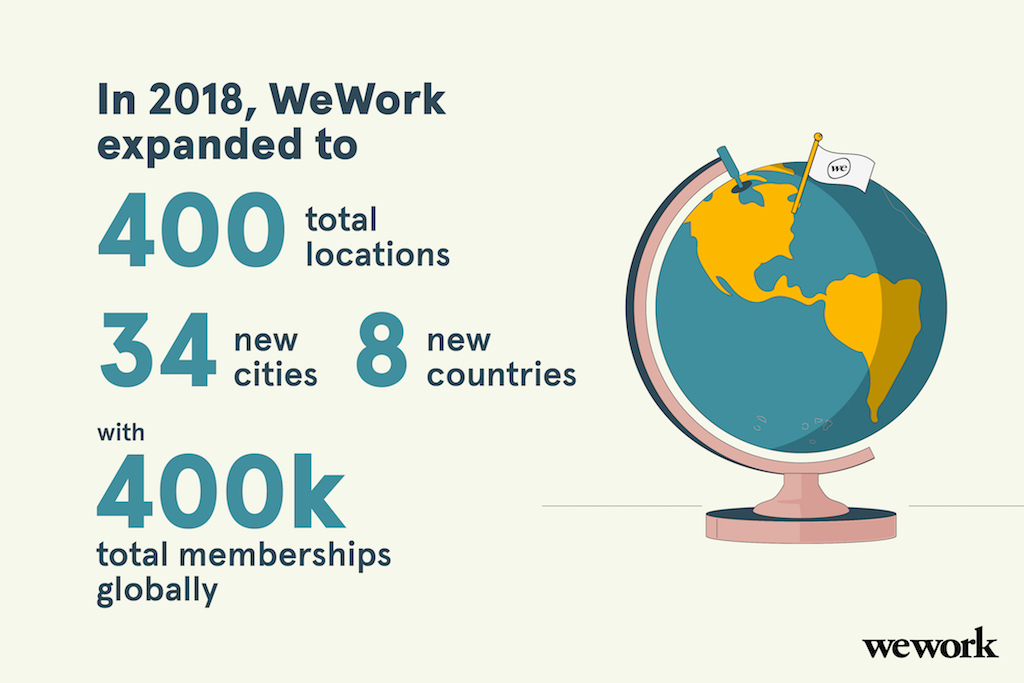 As a company, we are more certain than ever in our approach to tackling global issues. We invested $4.2 million in 22 businesses and awarded $1.7 million to 24 nonprofits across four continents through the Creator Awards. We continued our mission of hiring refugees, committed to a global meat-free initiative, and set our sights on becoming fully carbon-neutral by 2023 because we know that to create a better world, we have to take care of our planet.
We are deeply grateful to our communities, our members, and all of our teammates for setting an example of creating true impact. It is incredibly exciting to see how powerful we can be in driving positive change in the world, and it motivates us to do even more as we look to 2019.
A year of historic growth
Our growth this year spanned the globe: We added 200 locations in 34 new cities and eight new countries, including in Munich, Germany; Santiago, Chile; and Yokohama, Japan. And wherever we have a presence, WeWork has been shown to have a positive effect—helping new businesses grow and thrive; adding vibrancy and economic activity to neighborhoods; and powering the innovation economy in cities.
Diversifying the WeWork experience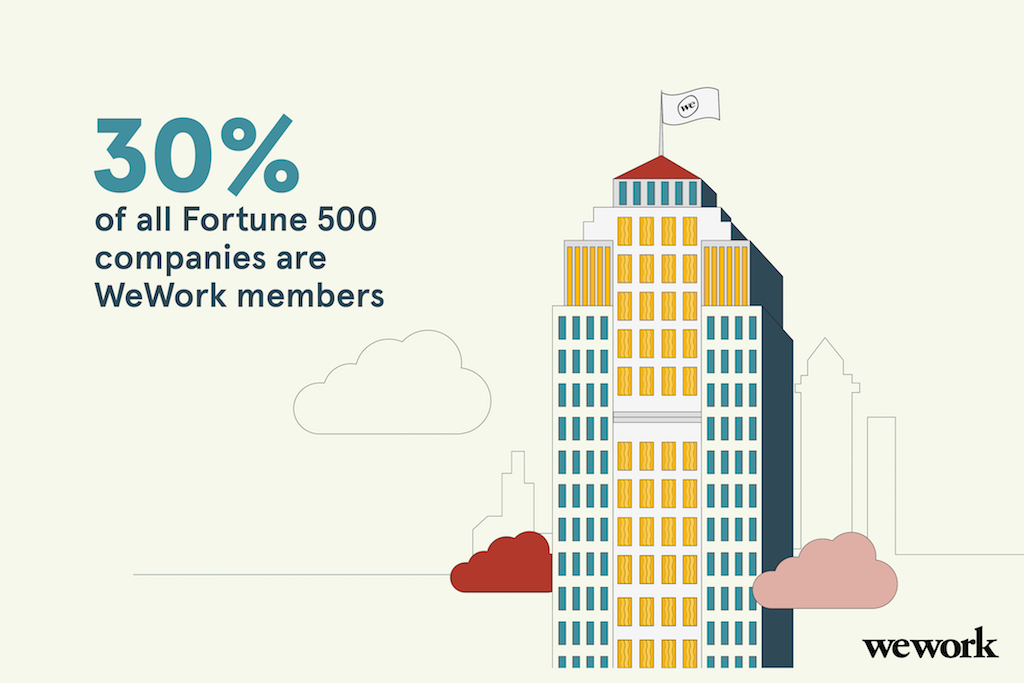 We launched in 2010 with a focus on startups and founders. Today, our membership has become increasingly diverse, and enterprise companies—those with more than 1,000 employees—make up more than 30 percent of our membership base. Forty percent of those members come to us for our creative, entrepreneurial environment, and 52 percent of happy employees credit opportunities to collaborate on their job satisfaction and as the best way to advance in their careers. Access to different types of workspaces boosts employee happiness: Satisfied employees use a variety of spaces 30 percent more than those who report being dissatisfied at work.
More and more enterprise members have been asking us to bring our data-driven approach to designing, building, and operating workspace directly to their own spaces, so this year, we began offering it as a service called Powered by We. We also expanded our focus on growing businesses with Headquarters by We, beautifully designed, adaptable, and cost-efficient spaces that meet companies' needs for privacy, identity, and flexibility. But we've never lost sight of our roots in the startup world, which is why in early 2018 we relaunched WeWork Labs—dedicated space, services, and community that already supports more than 1,000 startups in 33 locations in 17 cities and 10 countries.
Reaching out to veterans and refugees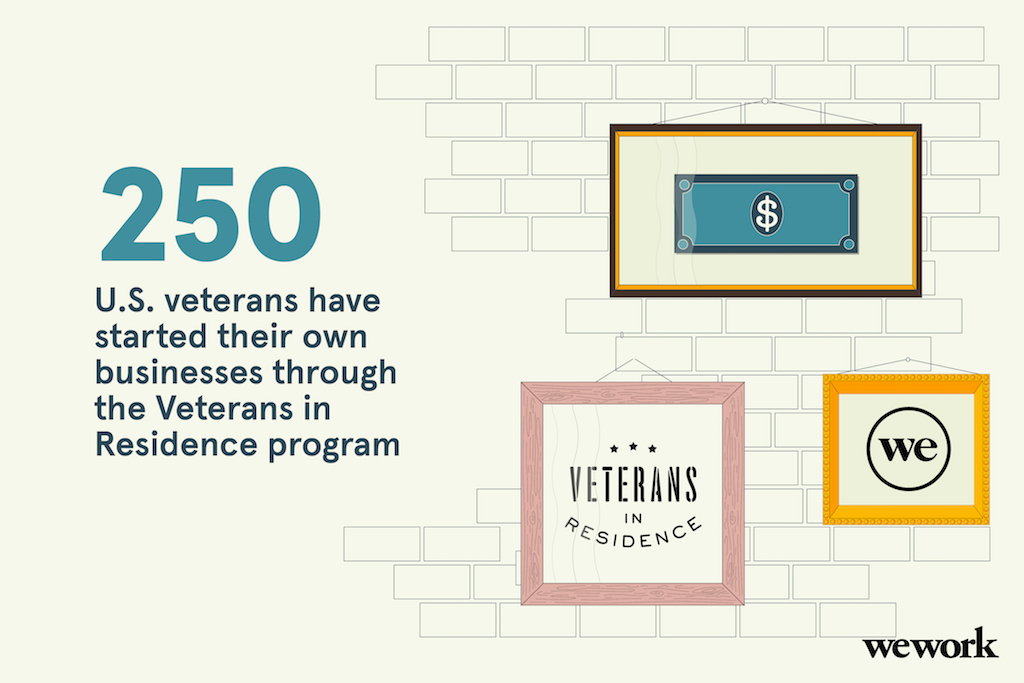 Now in its second year, WeWork's Veterans in Residence program—which, in partnership with Bunker Labs, provides veterans with the support they need to become entrepreneurs—is in 15 cities across the U.S., serving 250 veterans and their families. Mike Steadman is one of them: The former Marine, who discovered a love of boxing during his deployment, was able to connect with local entrepreneurs and leverage his military network to found a boxing gym with a program for inner-city youth in Newark, N.J. Almost 30 percent of our veteran entrepreneurs are women, nearly double the number of women in the military. We've also committed to hiring 1,500 veterans over five years.
We've made the same pledge for those who have been displaced by conflict and natural disasters—like Hirity Meles, who, after fleeing her native Eritrea, participated in our Refugee Initiative and then joined WeWork as a Community team member. In 2018, we expanded the program from its launch in the U.S. and U.K. to Brazil and Colombia. We couldn't be prouder to count the refugees we've welcomed into the WeWork family as members of our community.
Supporting creators around the world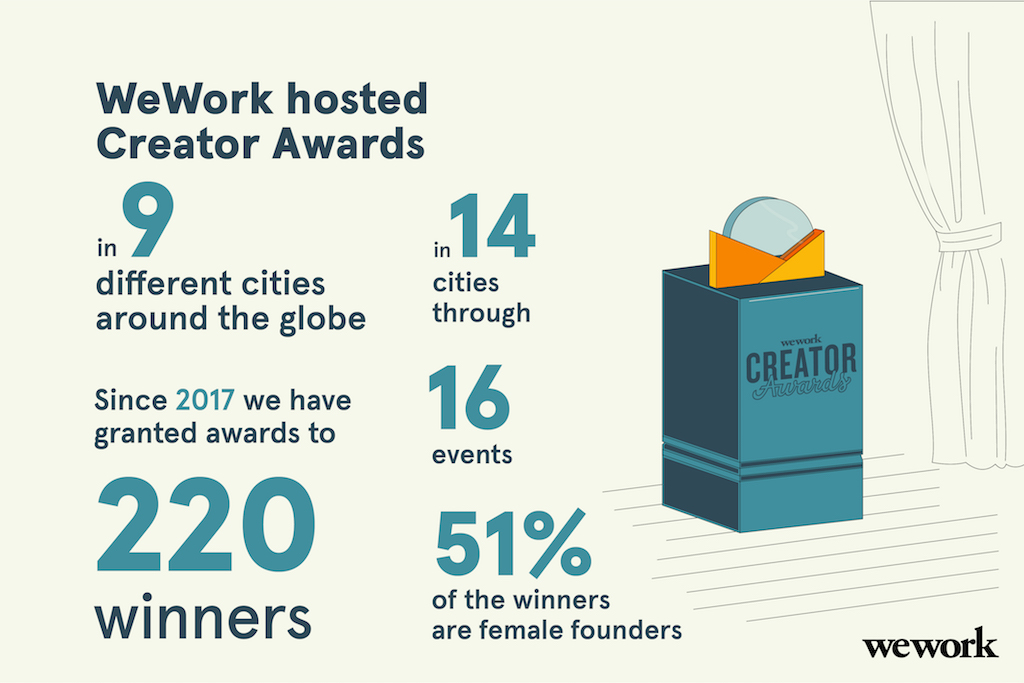 In 2018, WeWork criss-crossed the globe—to New York, Mexico City, Shanghai, San Francisco, Jerusalem, São Paulo, Nashville, London, and Berlin—to host the Creator Awards, which awards funding to mission-driven companies trying to change the world and entrepreneurs pursuing their dreams. More than half of the winners are women, like Rachael Corson and Jocelyn Mate, co-founders of the London-based natural hair care company Afrocenchix.
Living by a code of sustainability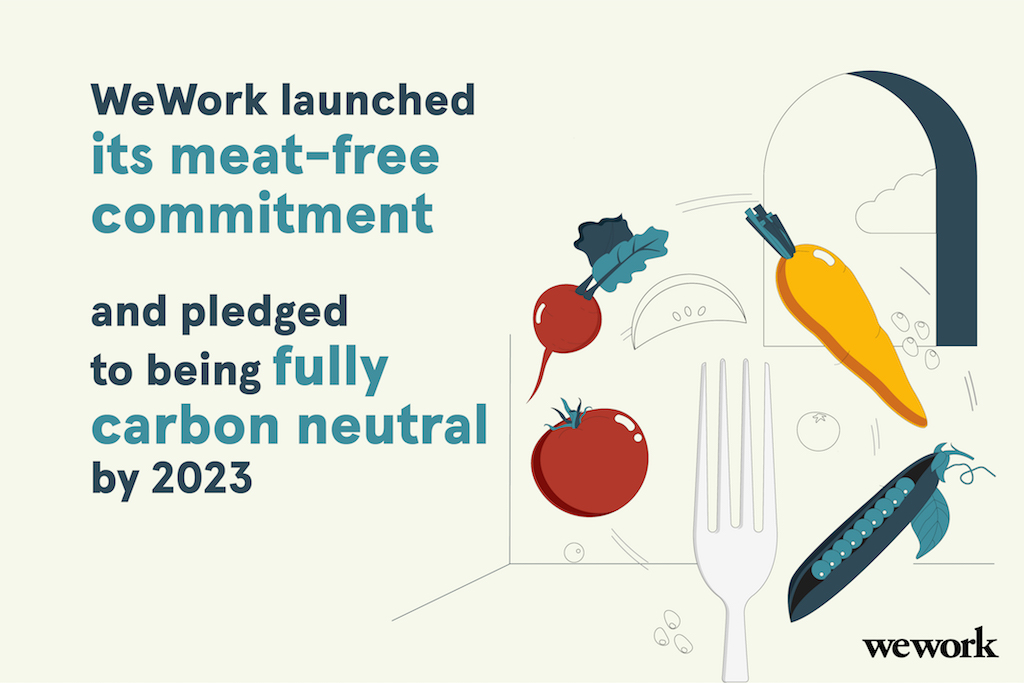 As we grow, we have a responsibility to reduce our impact on the planet. In July, we announced that the company no longer serves meat at company-sponsored events. Two months later, at the Global Climate Action Summit, we pledged to become fully carbon-neutral by 2023 and committed to eliminating single-use plastics.
Focusing on education
At WeWork, a large part of giving back means passing on our knowledge to the next generation. September marked the debut of WeGrow, a conscious entrepreneurial school that was established by founding partner and chief brand officer Rebekah Neumann. The first class comes from a diversity of backgrounds and speaks nine languages. Based at WeWork's global HQ in New York, the innovative space was designed by Bjarke Ingles, our newly appointed chief architect.
Bringing people together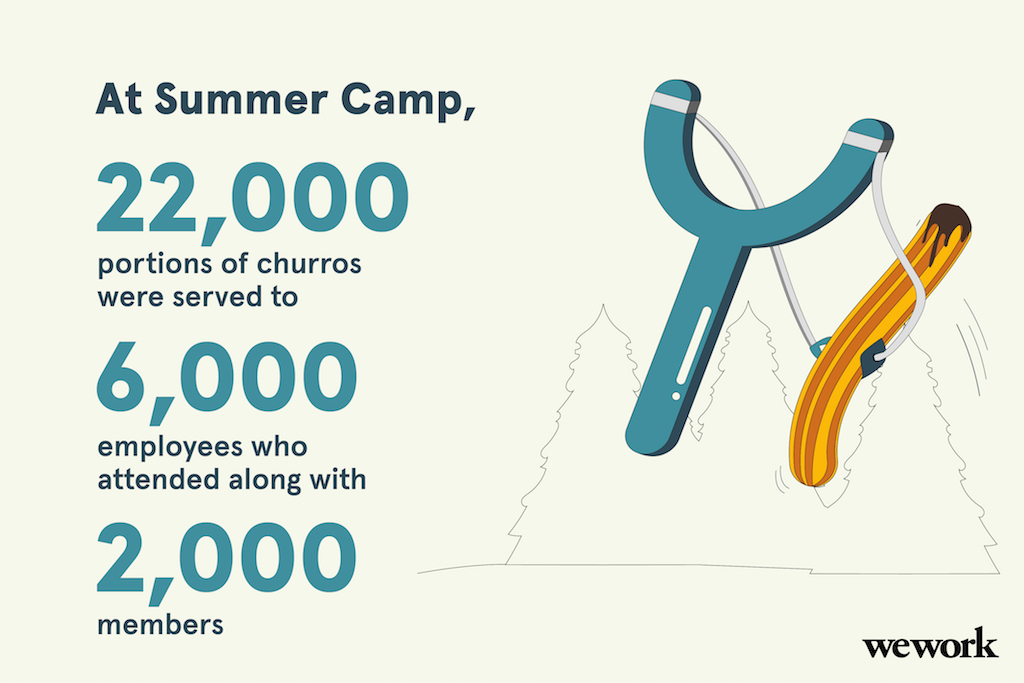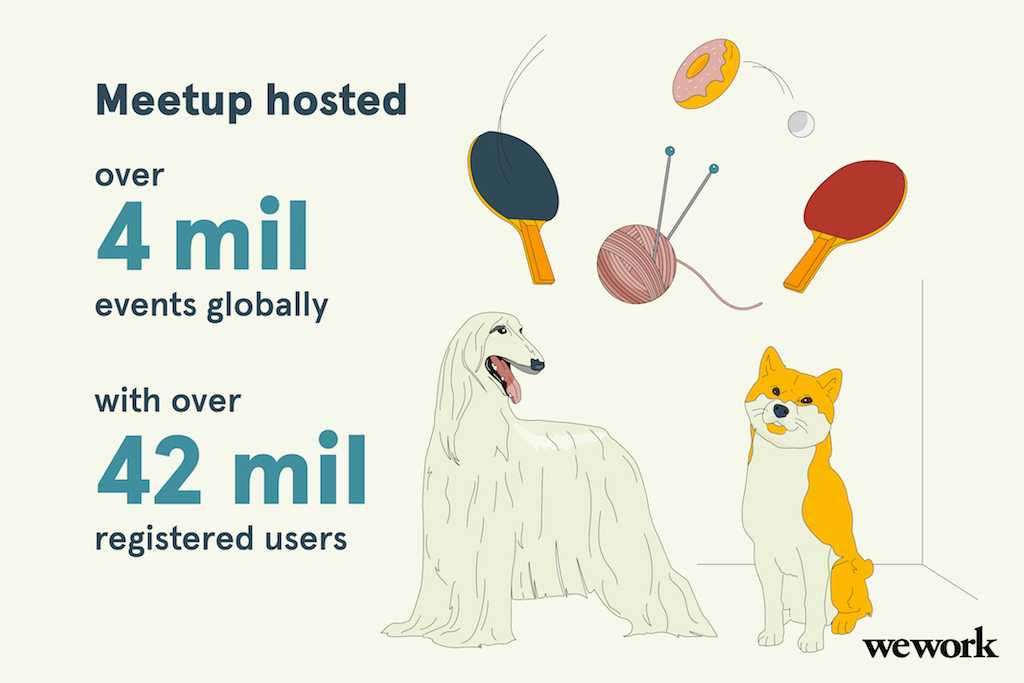 Connecting people is at the core of everything we do—whether it's facilitating workplace collaboration, providing support to a team member, or enabling people to build community among shared interests, as they did at more than 4 million Meetup events this year. At WeWork, we bring employees together twice a year to learn more about one another, the company, and ourselves. In January, 3,500 employees traveled to New York from 60 cities to attend the company's Global Summit; eight months later, 8,000 people converged in the fields outside London for three days of music, food, talks, and outdoor activities at Summer Camp.
The amazing work highlighted in this video represents just some of what we have accomplished together this year. As a global community, we are living our values, leading with real action, and creating something that is deeply reshaping the world. It is inspiring to see how powerful we can be in driving positive change.
Let's all use our impact in 2018 as fuel to do even more in 2019, and put everything we can into making our vision a reality.
We're just getting started.