Should You Have Dogs In Your Office?
Here in the United States, we love our pups. According to estimates from the Humane Society, there are 83.3 million owned dogs, and 47 percent of households have at least one dog.
It makes sense, then, that more and more workplaces are encouraging employees to bring their dogs to work, and even listing dogs as employees on their websites. Pooches have the power to unite employees, bring them joy, and serve as great talking points for businesses.
Take Your Dog To Work Day
We spoke to workers from different companies, both in the U.S. and abroad, about the dogs in their offices. These are the benefits they told us they've experienced when they brought their furry friends to the workplace.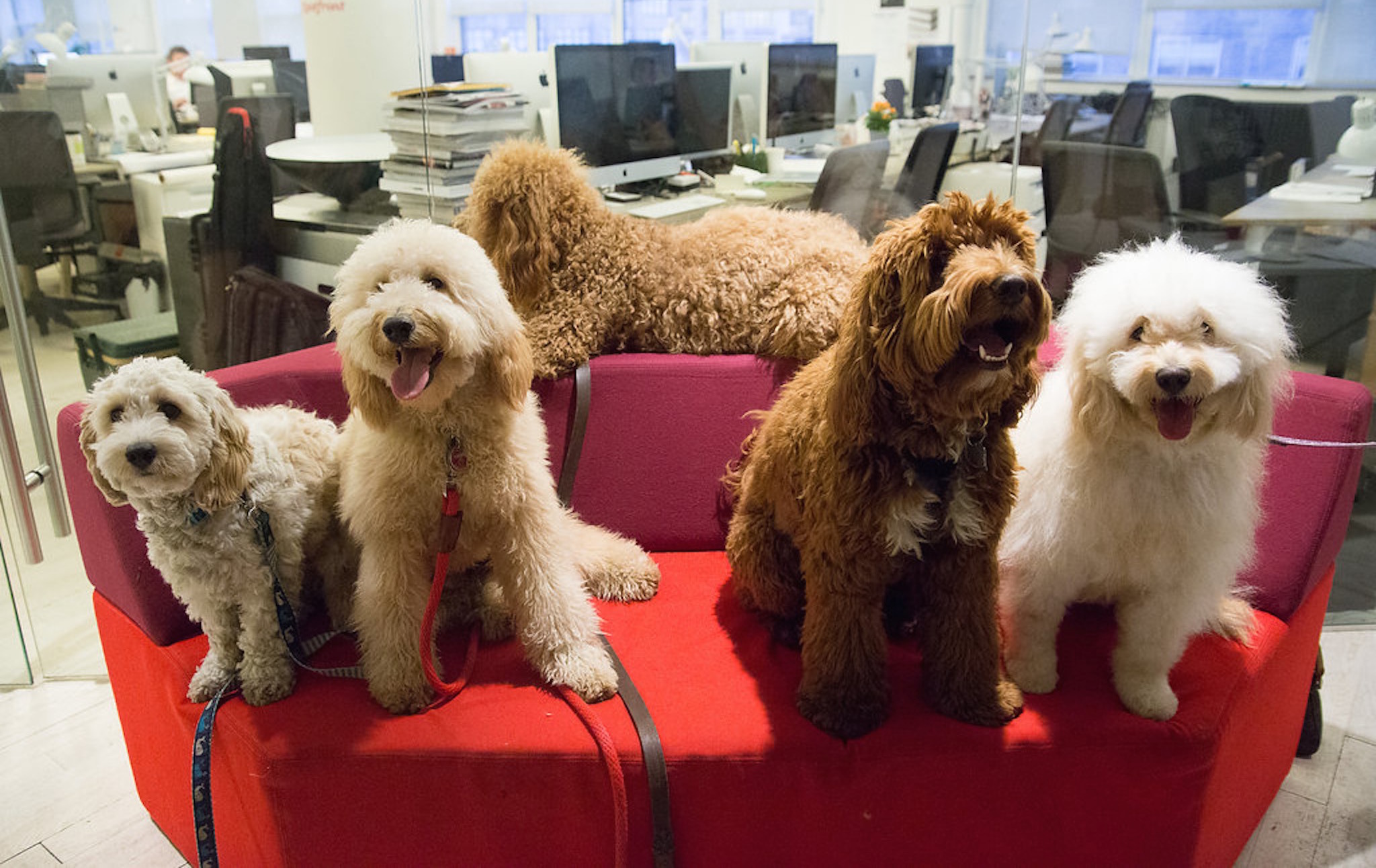 They increase employee happiness
Jennifer Williams, director of agency accounts and operations manager at advertising agency The Watsons in New York City, says that on average, there are one to five dogs in her office. They'll go around the space, checking in with the employees and putting smiles on their faces.
"They serve both as brand ambassadors to our visitors and therapists for our employees," Williams says. "They create a moment of separation from the chaos of the day. My dog makes the rounds throughout the day, visiting the ones who are good for a lap sit, the folks who are keen to pet her or play fetch, and the creative director who has a drawer full of treats."
Americans aren't the only ones who cherish their pups. In Australia, where Tony Starr works at software development company Atlassian, 36 percent of households own dogs. According to Starr, there will be anywhere from two or three to 15 dogs in his office per day.
Starr will take his dog Wilbur to work because he notices the positive effect it has on the office. "People love being able to walk by and pet him throughout the day," he says. "He loves the attention and people seem happier when he is around. If I don't bring him for a while, I get a bunch of people asking where he is, demanding I bring him."
It's a talking point for your business
A dog can get people to open up and feel like they relate to you and your company. Matt Sweeney, who works at Funny or Die in Hollywood, says the two to four dogs at his workplace, "break the ice for office tours or when celebrities or other guests come in and walk around. Most people like dogs, so it usually works out nicely."
Starr has experienced similar interactions because of his dog. "If I don't have a reason for talking to someone, having Wilbur here opens up the communications. It really does foster a better atmosphere in the office."
It makes life easier for your workers
Leaving your dog or puppy at home can be "ruff." Since many of your workers probably own dogs, it'll make life easier for them if they can bring their dogs into the office.
"Personally, it's healthier for the pet to be with me during the day rather than being alone at home," says Starr. "It gets both of us exercise. I don't have to worry about rushing home to let him out."
Sweeney says that by being able to take his dog into Funny or Die, he saves money since he doesn't have to hire a dog walker. Plus, his dog "gets plenty of exercise at my work because I work on the stage, so he has a big empty stage to run around and play fetch with other office dogs. That means at night, he sleeps when I sleep, verses sleeping all day and going crazy while I'm trying to sleep."
Tips for a dog-friendly office
If you own a business and you want to start allowing dogs, keep the following tips in mind.
1. Get permission from your landlord. Check your lease and make sure that you're not breaking any rules by bringing in dogs.
2. Make sure your employees are comfortable with this. Some people have dog allergies, and others might have had traumatic experiences with them. You don't want your employees to feel alienated by your new policy.
3. Set rules for your employees. For example, obviously you shouldn't allow aggressive, untrained, or unvaccinated dogs into your workplace. Let employees know ahead of time what kind of behavior will get their dogs kicked out. This might include food aggressive behavior, constant barking, or growling at employees. 
4. Do a test run. Ask your employees to bring their dogs to an office party, or give every dog a trial period. With the right standards in place, your workers can start to partake in the benefits that man's best friend can offer them.