When the producers of If Beale Street Could Talk wanted to help promote the Oscar-nominated and Golden Globe-winning film set in Harlem, they reached out to Teri Johnson, founder of Harlem Candle Company.
Annapurna Pictures wanted a scent that could evoke the movie's exact time and place. And Johnson, who knows the history of Harlem and renowned residents like performer Josephine Baker and musician Duke Ellington, was the right person for the job.
Johnson began researching James Baldwin, the author of the 1974 novel that inspired the film. She discovered that at the time he wrote it, Baldwin was living in the south of France. Journalists who visited him there often wrote about his love for his garden.
"Of course, any good writer is going to tell you how it smells," says Johnson, a member at WeWork 8 W 126th St. "So I found stories about the fragrances in his garden—orange blossom, wild lavender, and rosemary."
All of which inspired her candle "Love," which she says evokes Baldwin's home in the village of St-Paul-de-Vence. Ranging from $14 to $60, the candles are available on her website.
"I've been obsessed with beautiful scents my entire life," says Johnson. "I've been very inspired by places I've been and things I've smelled and tasted."
Johnson began selling her candles in 2015, making them in the kitchen of her apartment in Harlem. Although she now has help making them, she remains hands-on, especially during peak periods. "Do I still pour and package when I need to? Sure."
Since she started her company, Johnson has sold more than 20,000 candles inspired by the New York City neighborhood.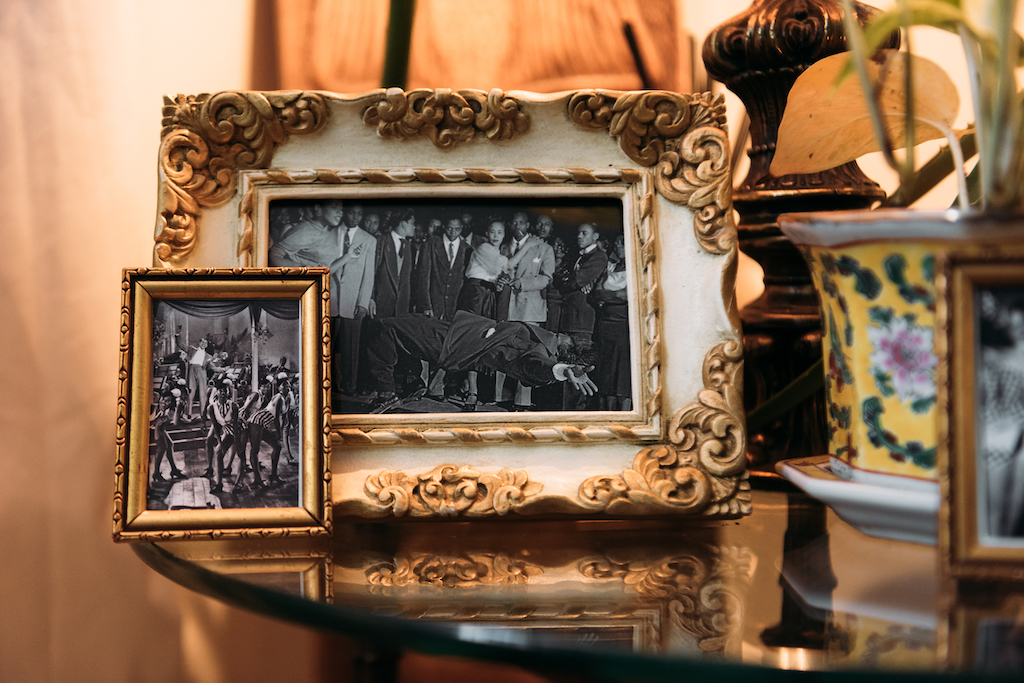 The first step, says Johnson, is always research into Harlem's history. For her "Langston" candle inspired by writer Langston Hughes, an avid smoker, she wanted "something with tobacco notes." Then she discovered that he had twice lived in Mexico, where he frequented small, dusky churches.
"He became a little obsessed with the incense burning in these churches," says Johnson. "So I said, 'Oh, I want incense notes in the candle."
Johnson works with perfumers to come up with just the right scent. The entire process, she says, can take close to a year.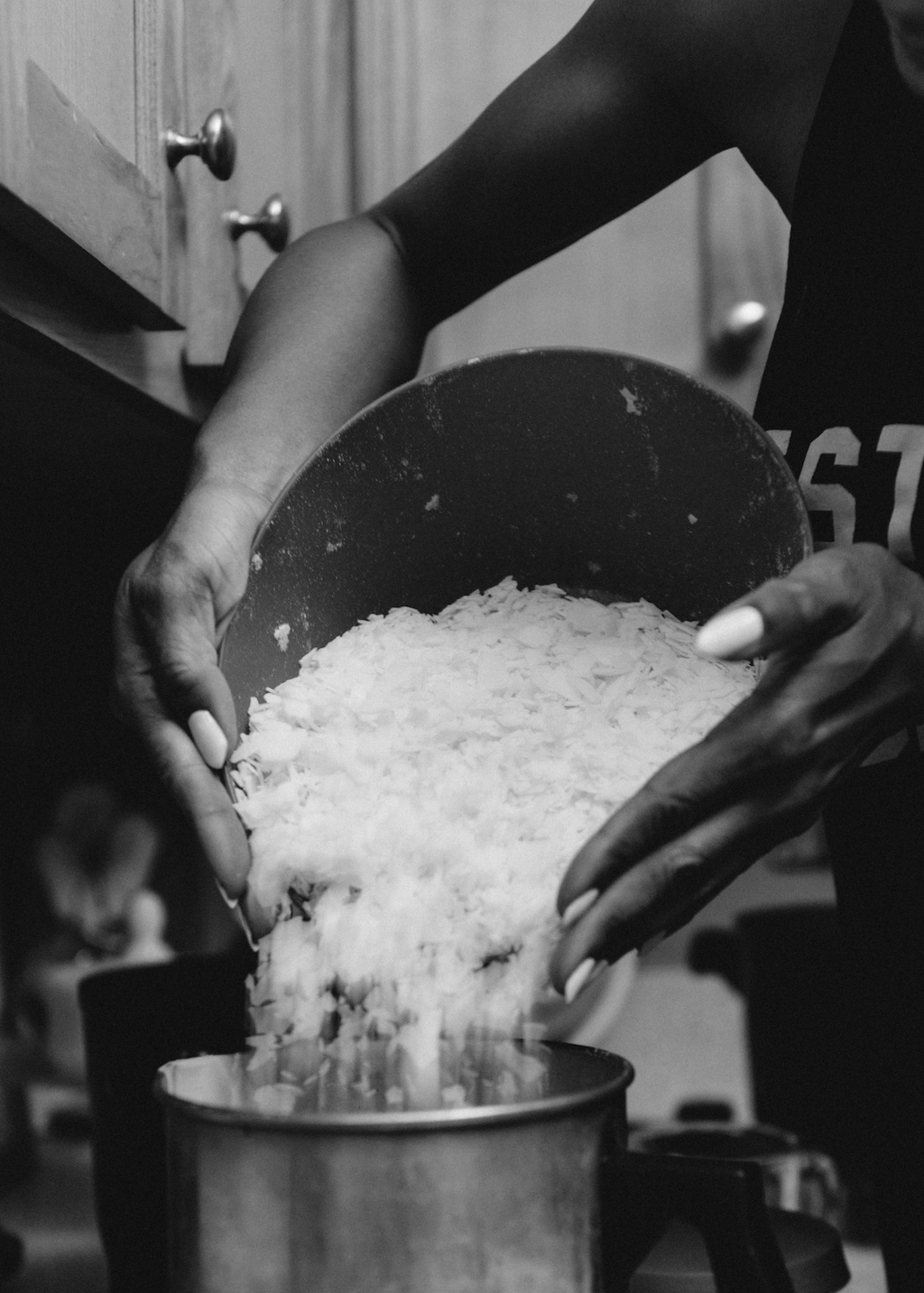 Johnson uses soy wax for her candles, which she buys in 50-pound boxes. After weighing the wax chips, she liquefies them on the stove.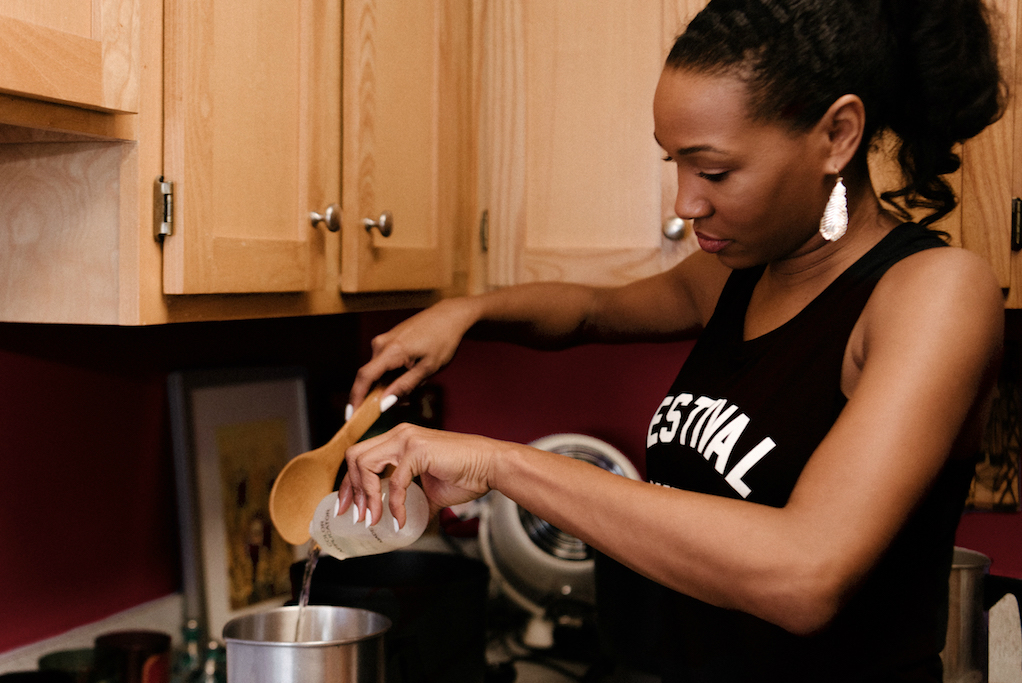 Johnson lets the wax cool. She knows it's ready, she says, by just by touching the pot. At this point, she can pour the fragrance oil.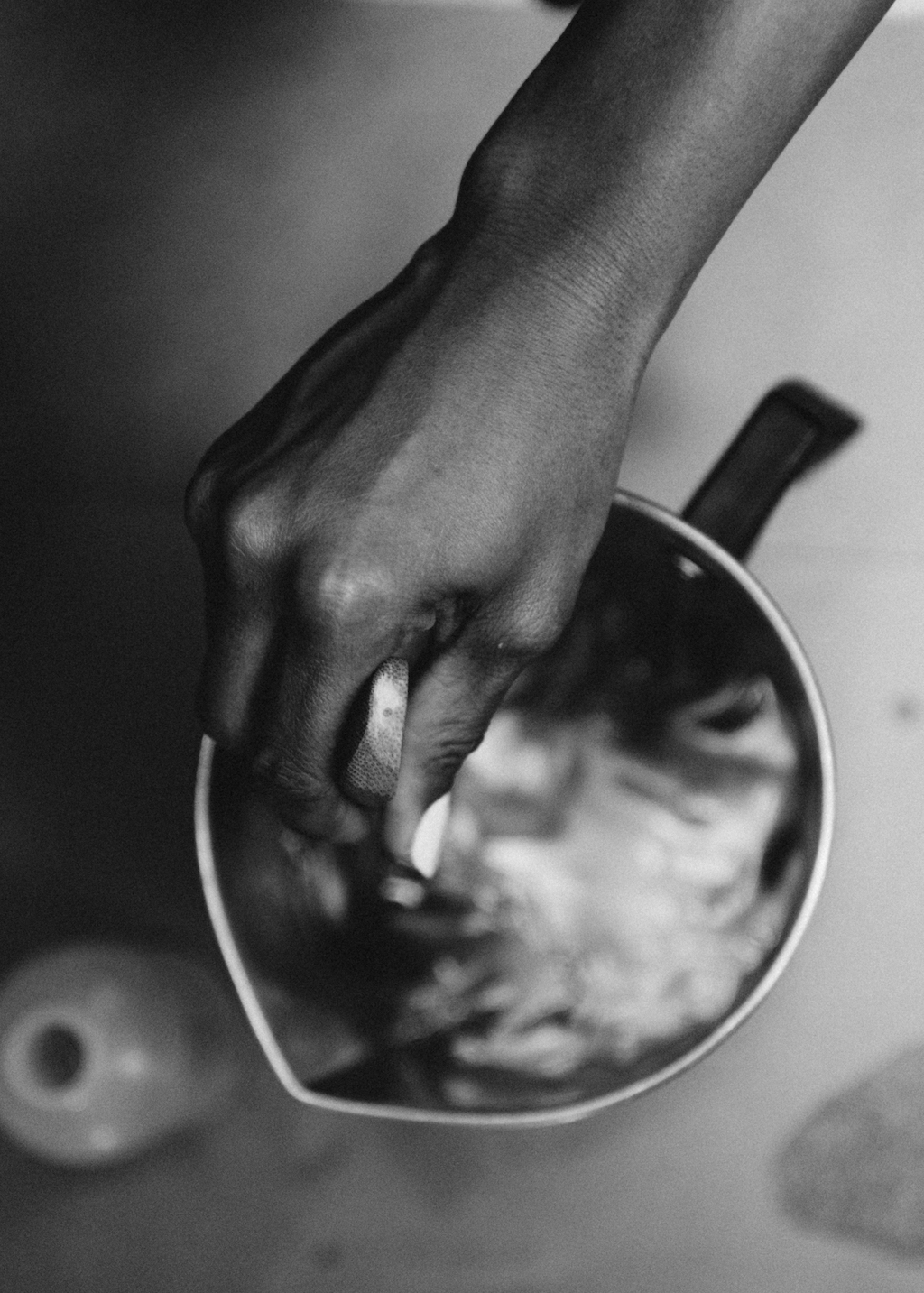 Johnson stirs the oil into the wax for a solid minute and lets it sit until it's ready to be poured—another temperature she knows by touch.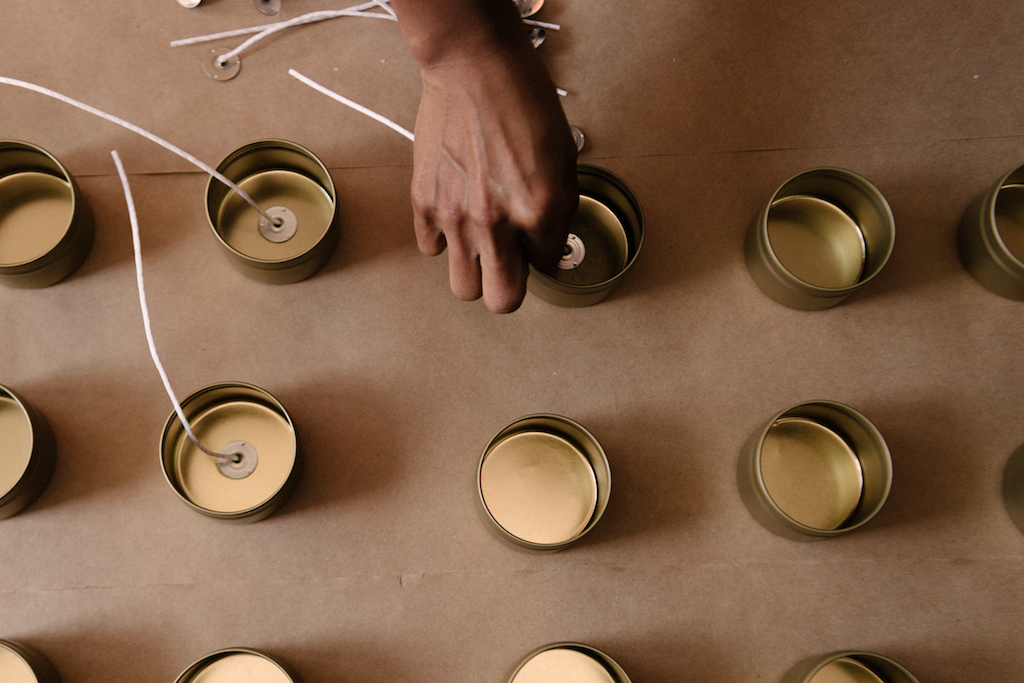 She places pre-tabbed wicks into candleholders and adheres the tab to the glass or metal, keeping the wick centered.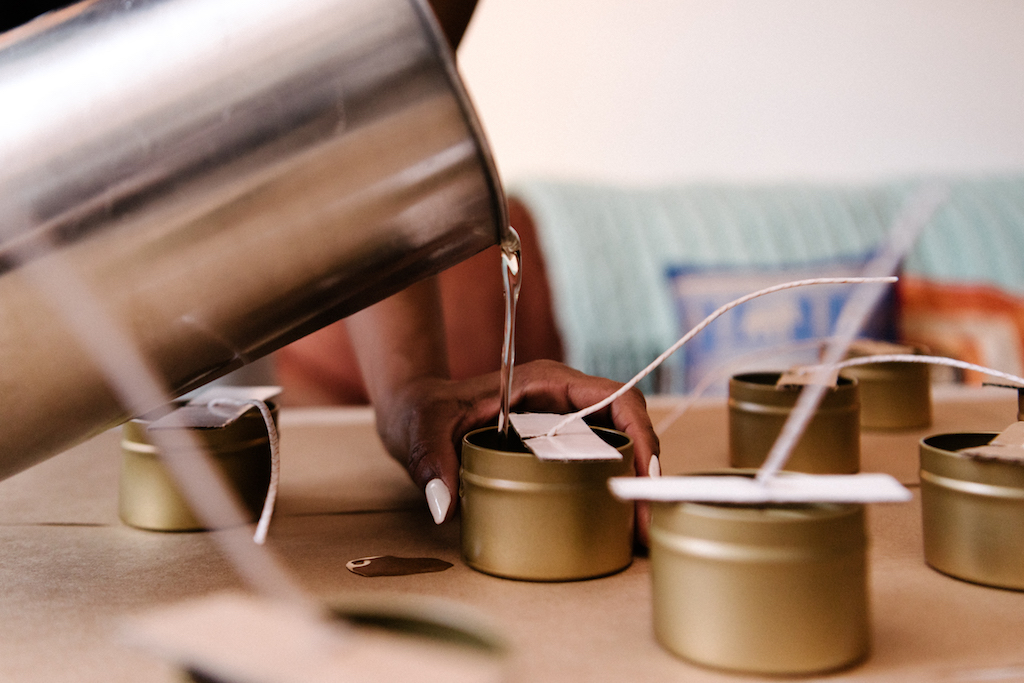 After she pours the candles, Johnson sets them aside to harden. Afterward, she trims the wick to size.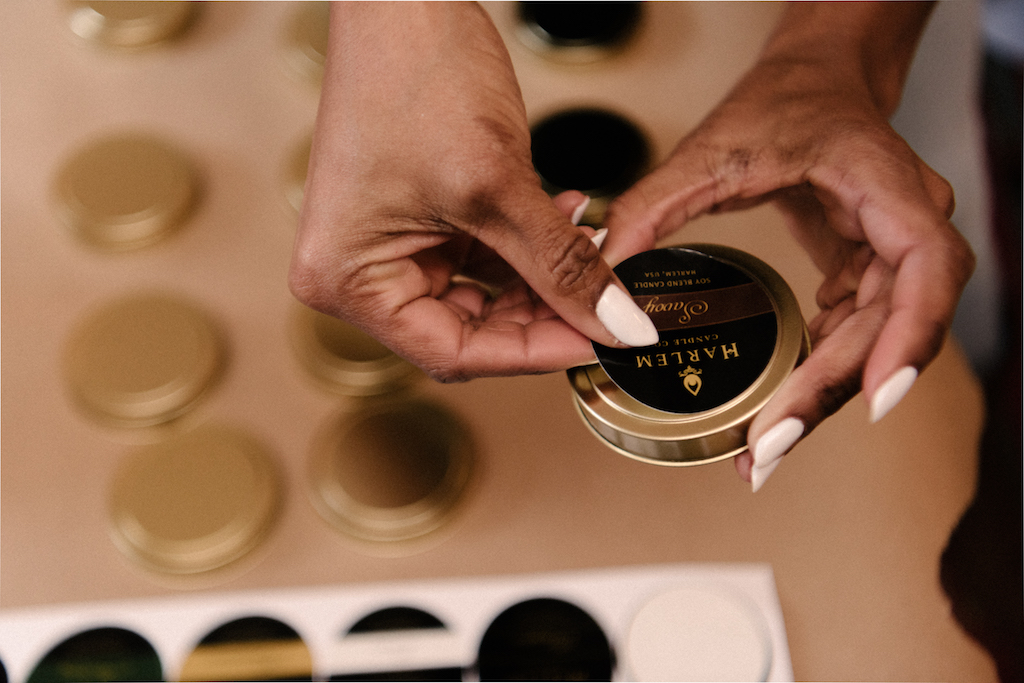 When they are ready to ship, Johnson affixes the label. The logo above the company name is a flame, but if you look closely another image appears.
"It's actually a person holding their arms up, representing unity, community, and love," says Johnson. "We wanted to embrace the past and the present, to celebrate old-school Harlem that is still here, to keep that alive."
Photos by Katelyn Perry