Surprisingly, Los Angeles doesn't have a lot of rooftop lounges, which is why those that exist really stand out.
The city's perennially warm weather means pools on top of roofs and constant open-air soirées. Here's where to go to catch up with co-workers after work.
A short drive from WeWork Fine Arts and a quick walk from WeWork Gas Tower, the Ace has a Moroccan-themed roof buzzing nightly with great beats. There's a swimming hole up there where you can take a dip and sip boozy concoctions.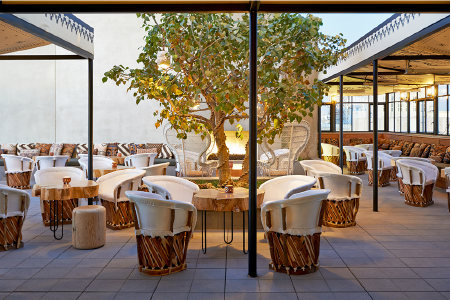 Perch's downtown location gives it one of the best views in town. The bar is popping and the food is French. The roof can get crowded, but if you get an early start, you'll most definitely have the most romantic experience.
The Standard has been a longtime favorite. It offers a panoramic view of downtown. Plus, they have waterbed pods to supplement.
Skybar is in the heart of Hollywood, which makes it a well-frequented place by the rich and beautiful of Los Angeles. There's a giant pool and plenty of space to just lounge.
Craving a beach sunset? High Rooftop has you covered. The Venice spot is ideal for warm and clear evenings. Watch the sun set all while taking in the ocean breeze and the sound of the roaring waves.
The Andaz actually has the highest rooftop pool in town. You can get stellar views of Hollywood and Sunset Strip up here, all while sipping on handcrafted cocktails.
This Hollywood nook is an ideal low-key place to take a quiet date. The dim candles really help set the mood. Best part: There are pool tables up here!
Photo Credit: The Library at The Redbury (Header Image / Facebook), Upstairs at The Ace Hotel, Perch (Facebook), Rooftop at The Standard (Facebook), Skybar at the Mondrian (Facebook), High Rooftop Lounge (Facebook), The Andaz Sundeck, The Library at The Redbury (Facebook)