Lindsey Ruthen knows it sounds crazy, but her favorite part of WeWork's Summer Camp 2018 was when when a brief but torrential downpour flooded her tent.
"Were all of my things soaked?" says Ruthen, a public relations manager at Flatiron School in New York. "Yes. But I've never felt more supported by coworkers in my life. People were offering me warm clothes and blankets, helping me dry out my tent, or simply saying: "I heard what happened. Are you OK?'"
Ruthen, who started at WeWork just two months ago, was attending the annual event for the first time. This year 8,000 people from around the world headed to Eridge Park, a wooden area 40 miles southeast of London, for a long weekend of music, food, outdoor activities, and opportunities to improve their skills or learn more about themselves.
Most attendees were employees at WeWork, a number that has more than doubled over the past year to include more than 6,000 people. Despite the size of the crowd, Ruthen says it felt like a community.
"The experience showed me how supported I'll be by my team no matter what the challenge will be," says Ruthen.
For a lot of WeWork staffers, the seventh annual Summer Camp was a chance to bond with colleagues. This was especially true for the more than 3,200 people in attendance who had been with the company six months or less.
"As a new hire I didn't have many connections to lean on during Summer Camp," says Justene Miller, a recruiter who is based in New York. It was a gathering sponsored by the employee group We of Color that made her feel included. "The event reassured me that my network was strong, welcoming, and would always make me feel at home."
Ryan Ruiz, a technology lead who works from Austin's WeWork Congress, says he felt the same way when attending events sponsored by Pride of We.
"I don't normally feel comfortable being so open about who I am or showing my true self, so being around such open and kind and supportive community made me happy to be myself and enjoy myself with others like me," says Ruiz.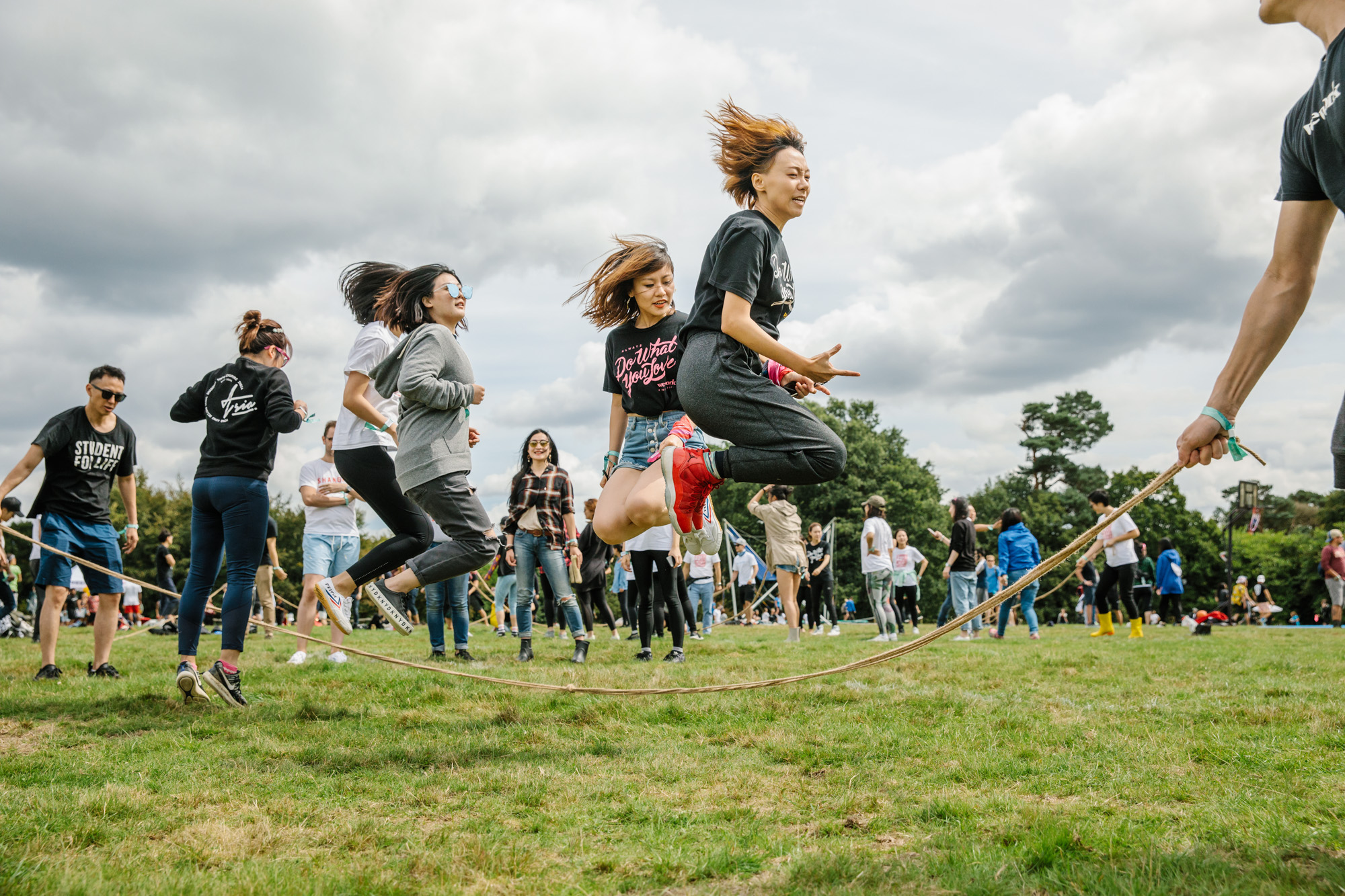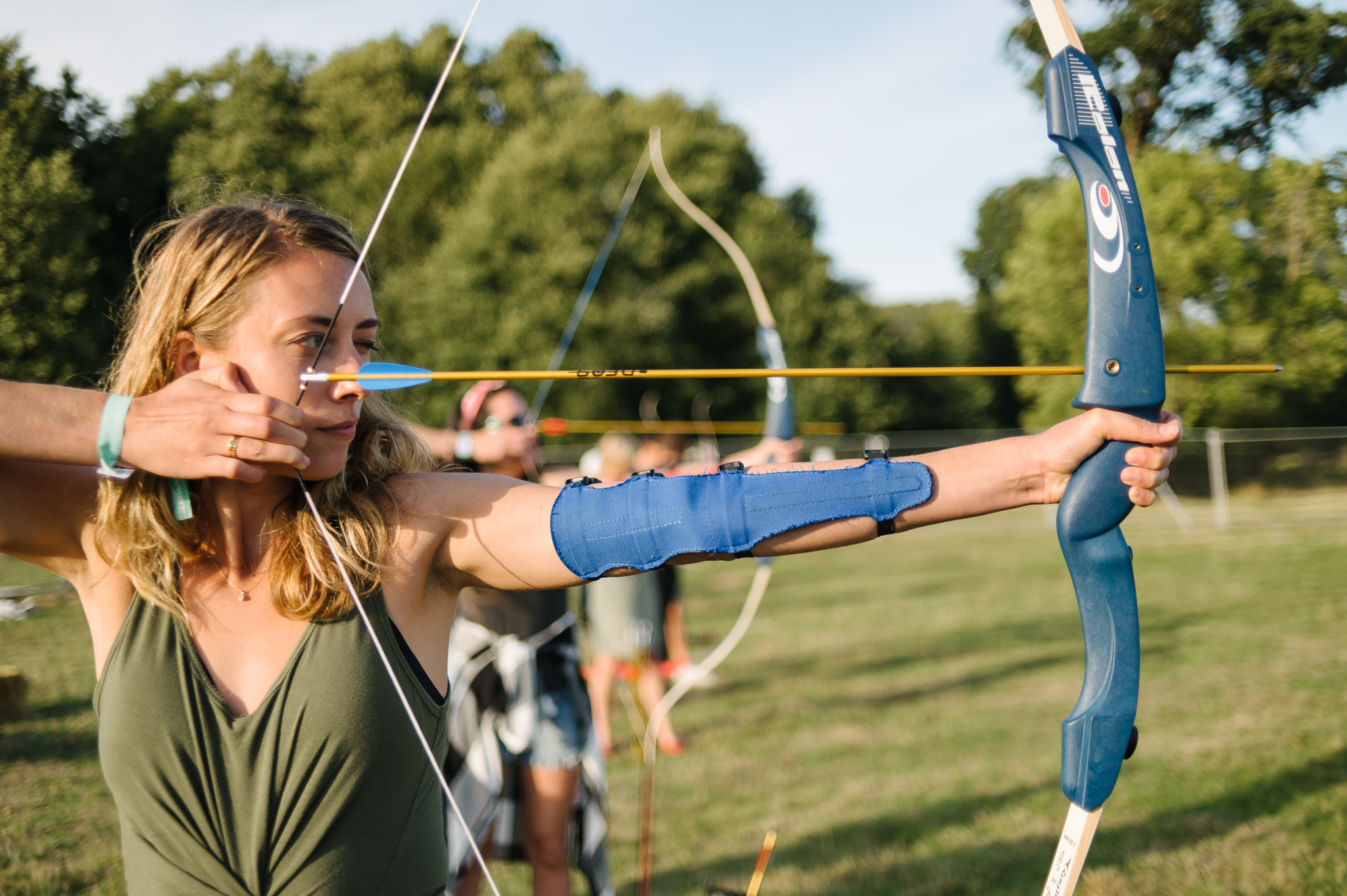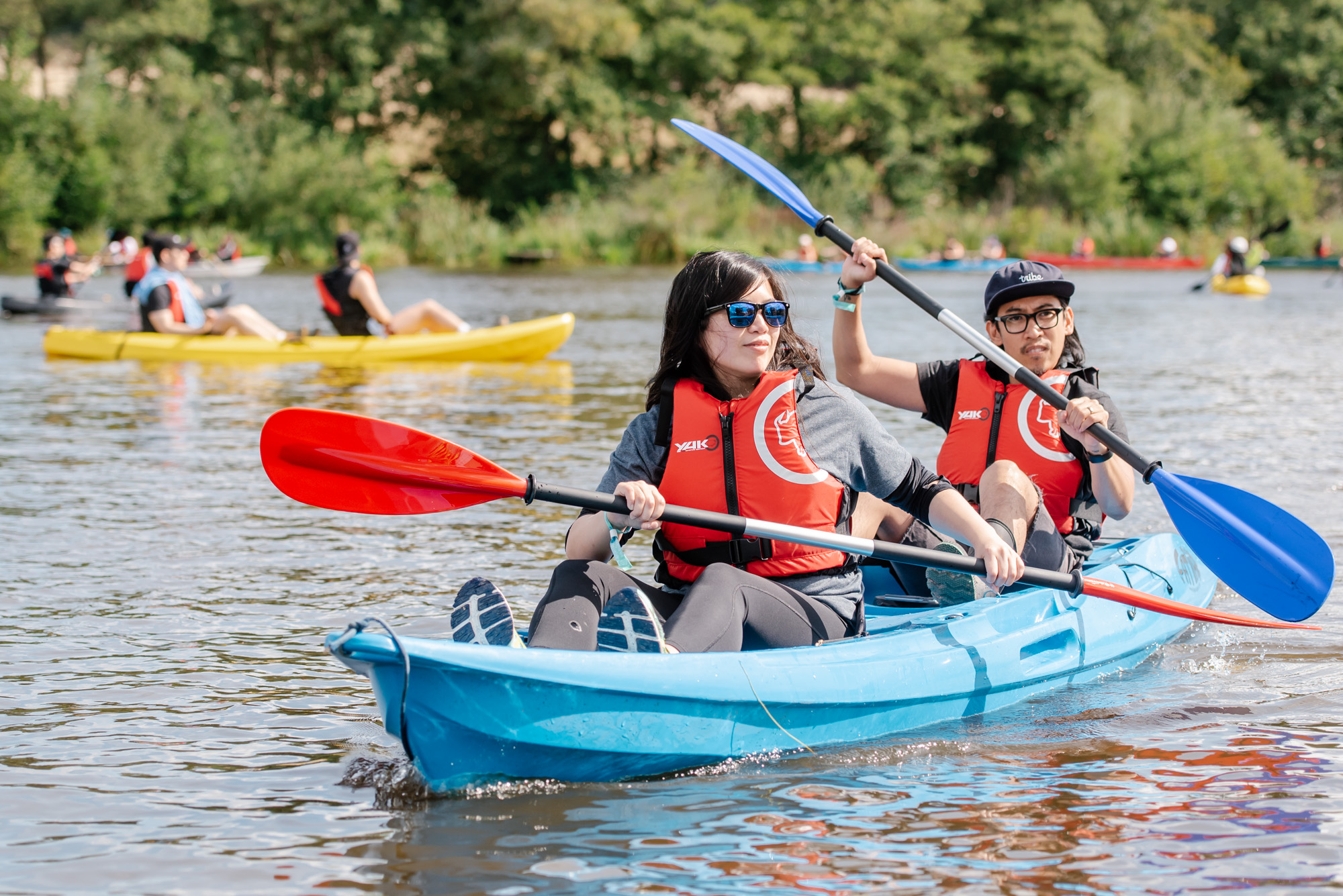 Lucas Costa, a community manager at São Paulo's WeWork Avenida Paulista 2537, says he was touched by how accepting Summer Camp felt.
"What I loved the most was the opportunity to bond with people from different cultures but who share the same mission and to see that our team is diverse in terms of gender, color, and sexual orientation," he says. "I'm really grateful for being part of We."
One of the most moving examples of community came when Augusto Contreras, a community manager at Mexico City's WeWork Reforma Latino, got down on one knee near a dodgeball tournament and proposed to his longtime girlfriend. As his entire team from WeWork Latin America stood around them and cheered, she smiled and accepted.
"I felt like I was surrounded by my extended family," says Contreras, who has been with WeWork since January. "There were people from everywhere—Europe, Israel, China, Japan—standing around us and creating this huge feeling of love."
Contreras says that WeWork Mexico general manager Eduardo Molina, who also happens to be a friend from college, convinced him to pop the question at Summer Camp.
"I told him that I was going to buy a ring and find the right place to propose," says Contreras. "He told me, 'I know the right place.'"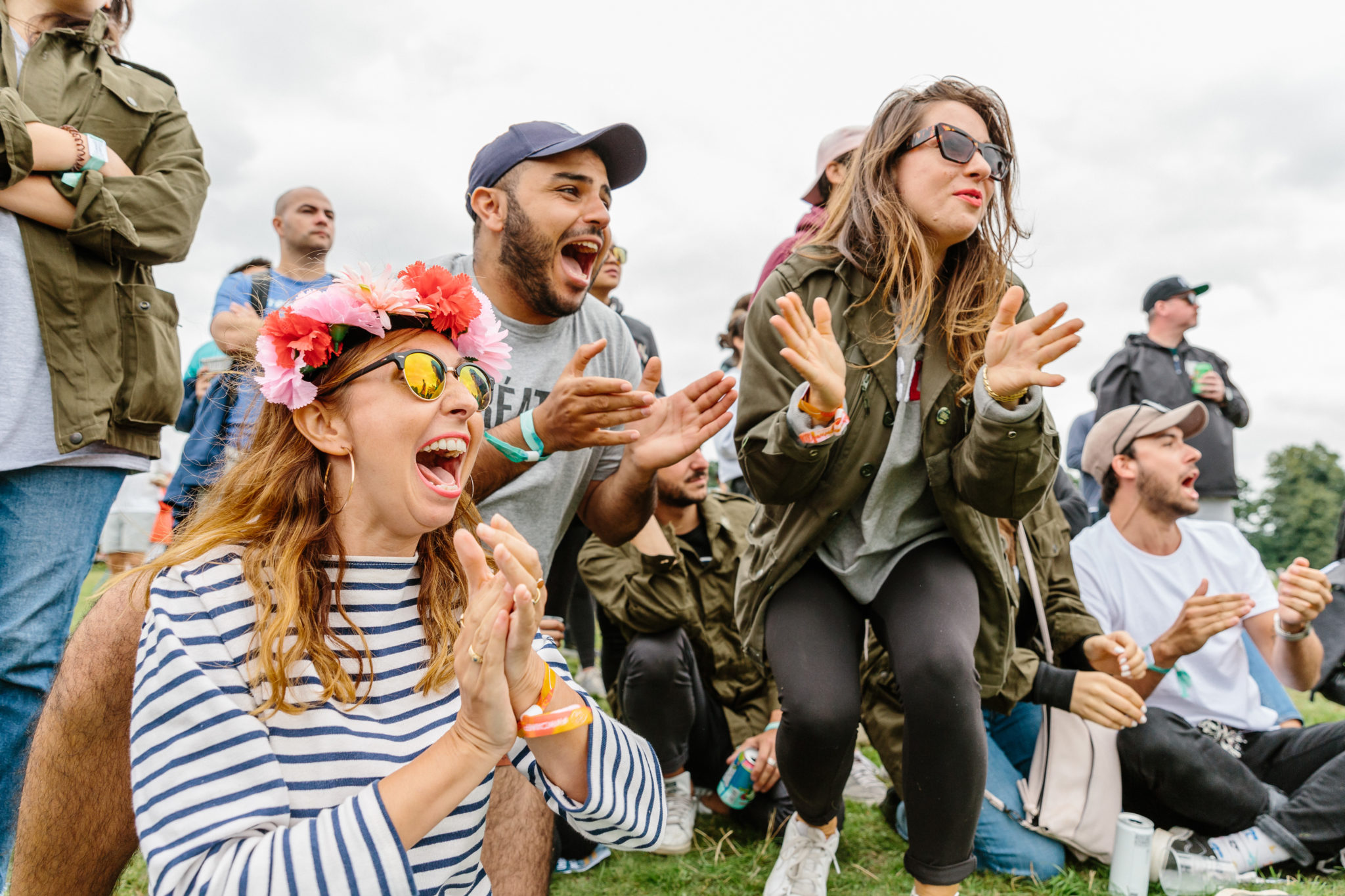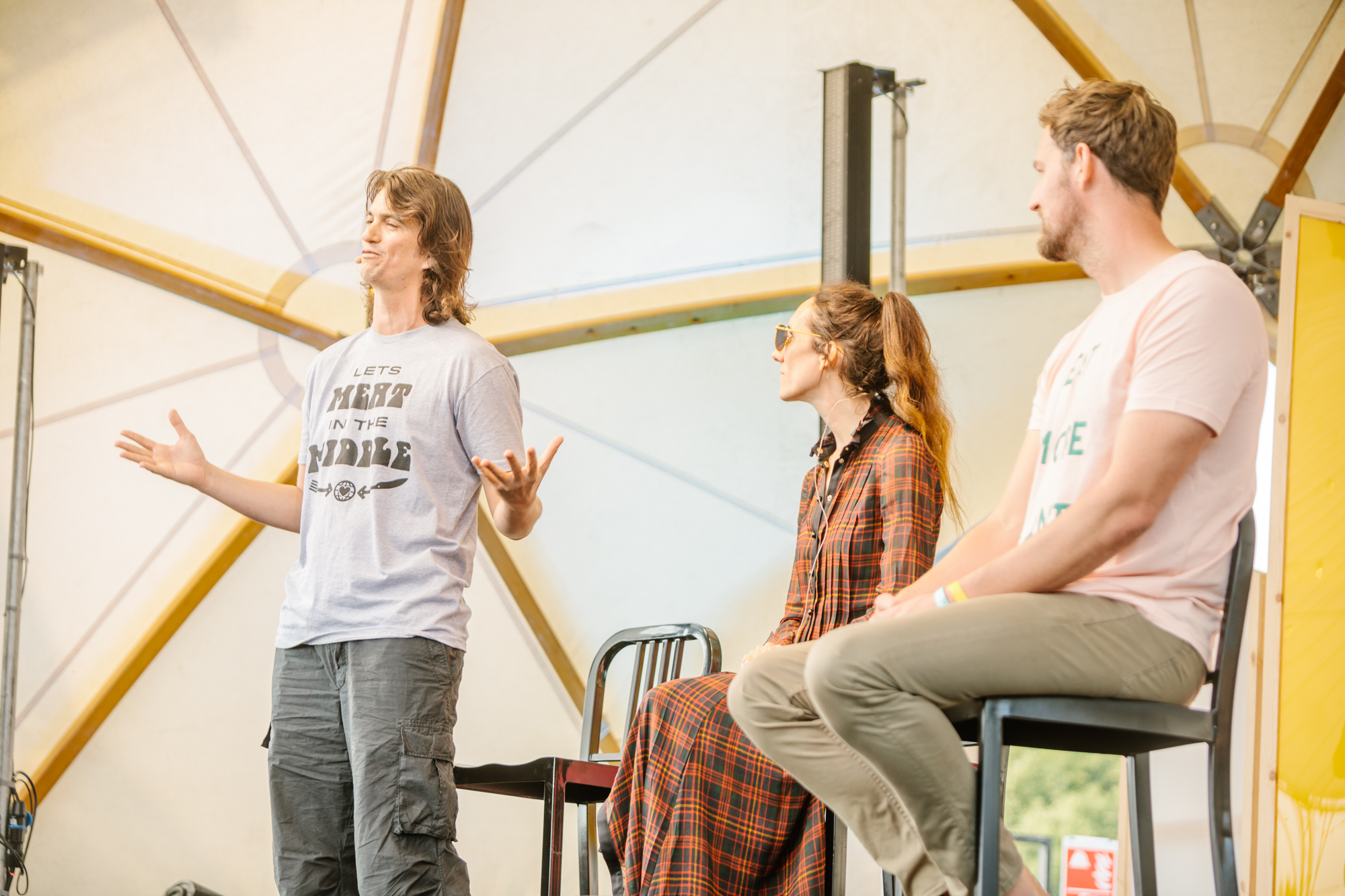 Contreras says the universe seemed to be telling him that he had made the right decision. At one point he ducked into a tent to get out of the rain, and inside was WeWork cofounder Miguel McKelvey giving a talk about the power of love.
'That seemed like a sign," says Contreras.
'I loved being surrounded by a community'
There were literally hundreds of activities both on and off the official schedule, ranging from early-morning yoga by the misty lake to late-night skating parties held at the roller disco.
"My favorite part is recapping the whole weekend and doing so much you forgot all the things you did," says Khalilah Branch, community manager at WeWork Dupont Circle in Washington, D.C. "Like when I fell skating. I forgot about that one but laughed all over again remembering it and was like, 'Dang, when did we skate?'"
Many people gravitated to the craft village, where they made flowered headbands or adorned their faces with metallic paint and glitter.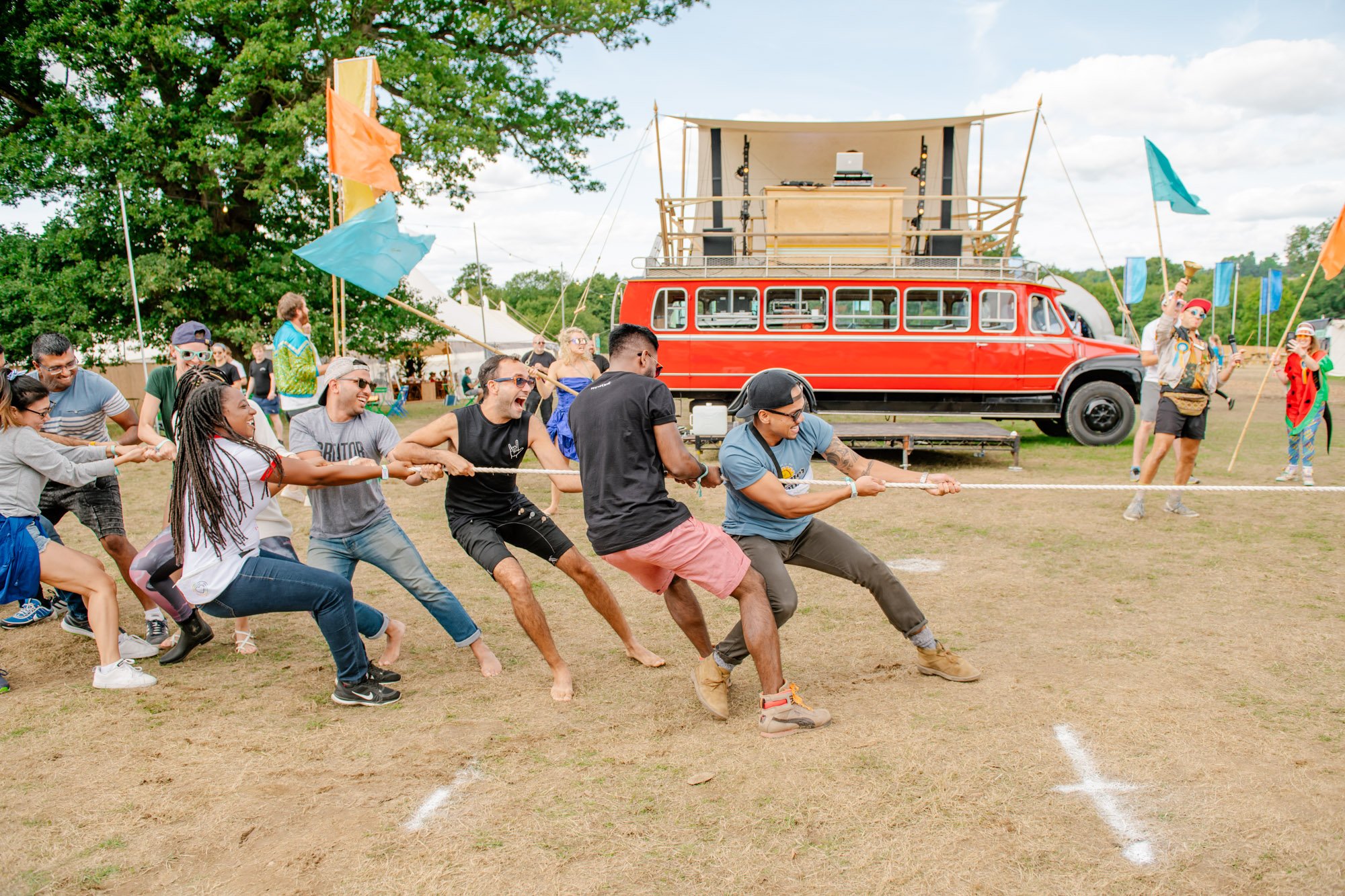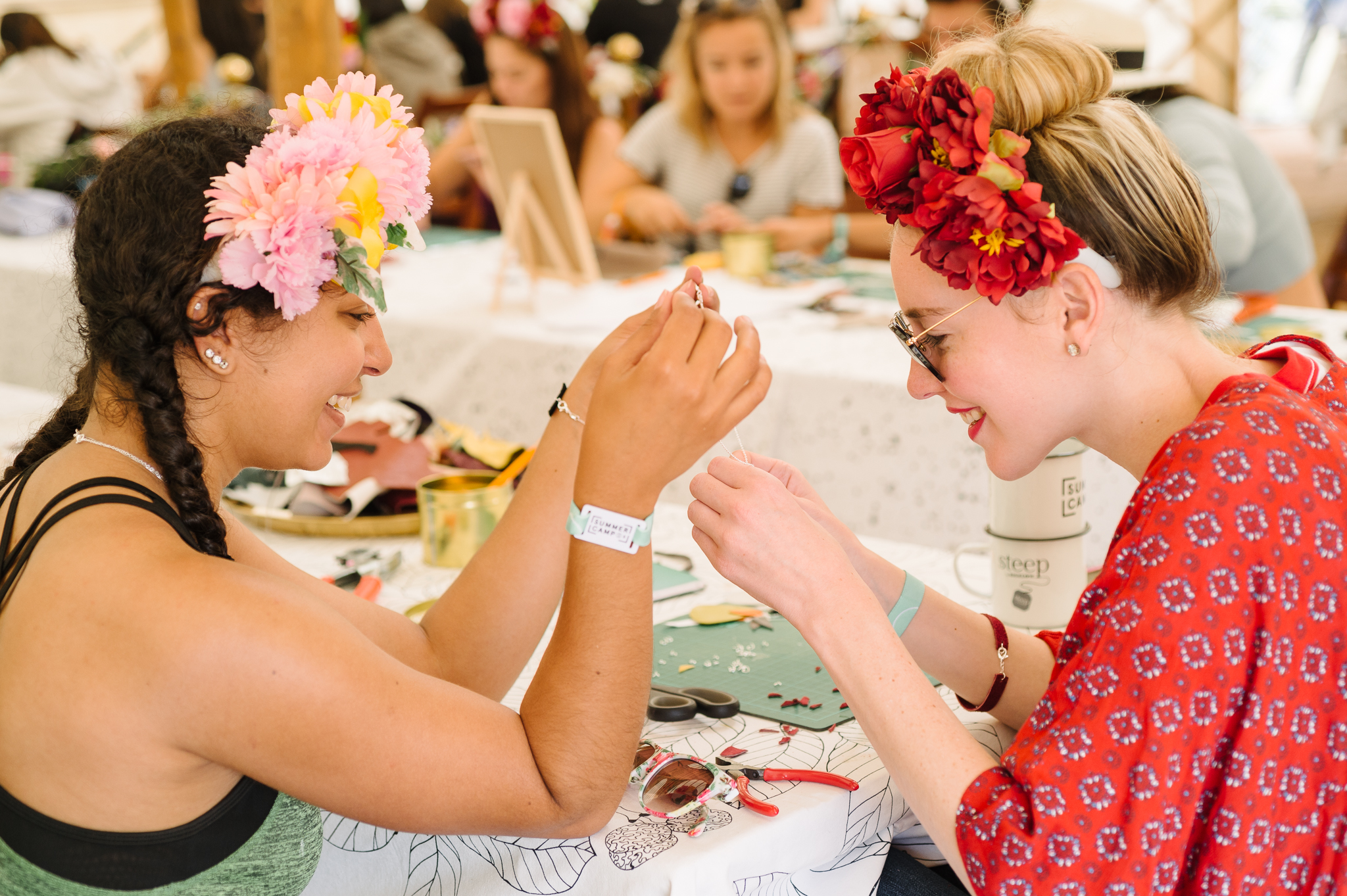 "Some of my favorite parts of Summer Camp were unassuming activities that I did not think would be so much fun, like leaf printing," says Shannon Allen, a community lead in New York. "Who knew that taking a few leaves and flowers, putting them between a piece of cloth, and banging it with a rock would be so much fun?"
Sports enthusiasts played soccer and other team sports on the upper field, while more introspective types congregated in a series of geodesic dome along the waterfront or at the main stage where New Age speaker Deepak Chopra led a meditation workshop.
"My favorite part about Summer Camp was the focus on mindfulness and meditation in our personal and professional lives," says Ashley Astolfi, director of digital insights. "I try to live mindfully—staying 'in the moment' is a big challenge for me—and I loved being surrounded by a community of others who are trying to do the same."
New Yorker Victoria Taylor, WeWork's director of digital community, says she purposefully stepped out of her comfort zone.
"I participated in my first-ever drum circle!" says Taylor. "It was definitely something I'd never been a part of before, but the instructor helped me and my fellow workshop participants at ease and comfortable."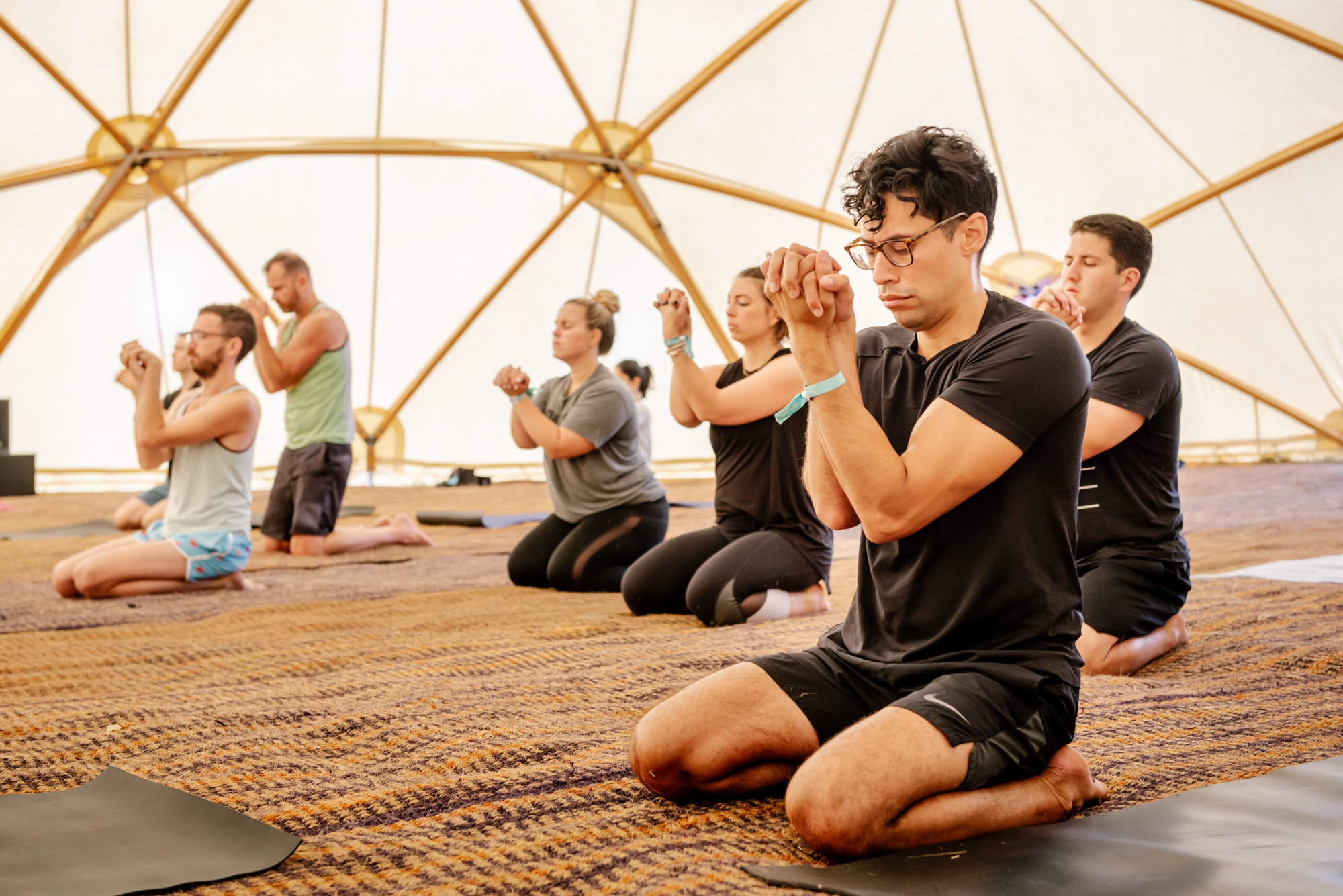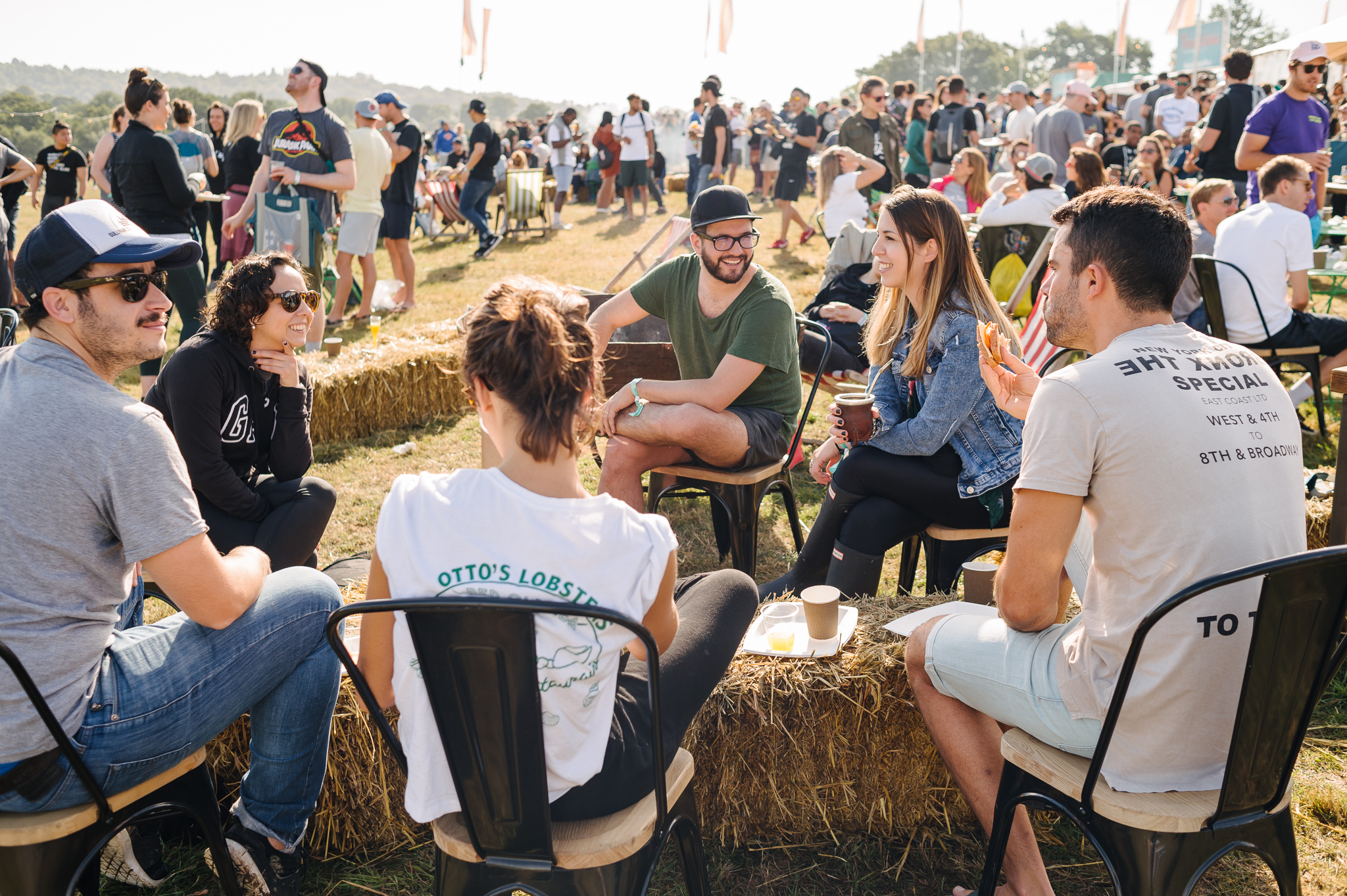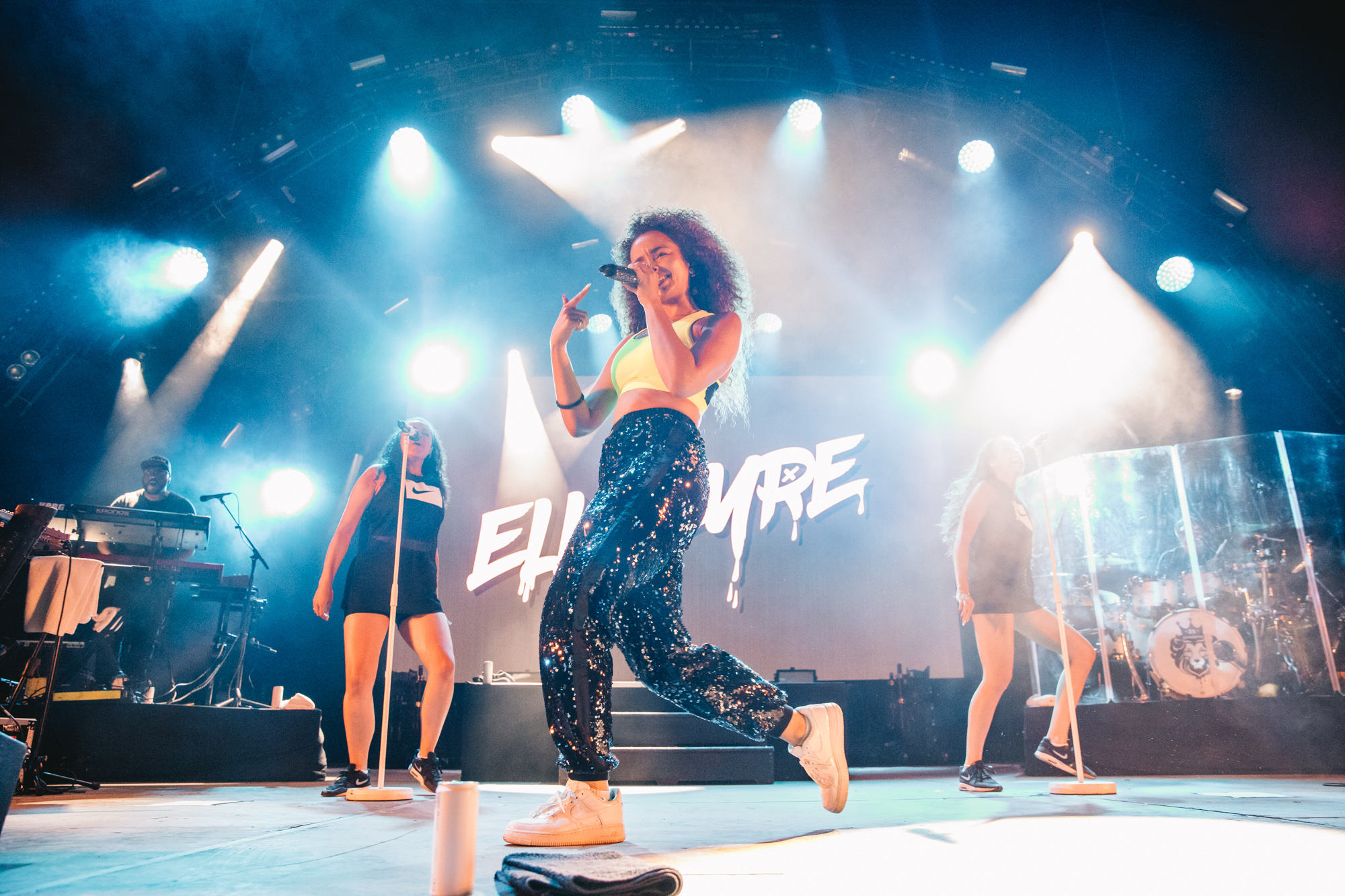 WeWork Apollo community manager Rachel Gartlan says meditating to the sound of a gong gave her a "moment of zen." And marketing manager Christina Riggio enjoyed "facing my fears" on the bungee trampoline.
And some, like WeWork's director of research Daniel Davis, created their own activities.
"We have a rock climbing group at WeWork who have never met in person because we're spread all around the world," says Davis. "We got together at Summer Camp and spent an afternoon climbing a cliff in the forest before heading off to get a beer together. It was magic to spend some time outside connecting with people that I'd only otherwise know digitally."
'Smiling and dancing with others'
Summer Camp most closely resembles a music festival, with several stages featuring local and international talent.
"Seeing everyone move as one cohesive body to the beat was a very strong and memorable moment for me," says Mike Santillana, WeWork's applications security manager. "Nothing screams love more to me than smiling and dancing in sync with others."
Performers like Bastille and Alesso brought the crowd to their feet. The headliner for the weekend was Lorde, who drew a massive crowd to the main stage.
"My favorite moment was yelling at the top of my lungs during Lorde with people I've never hung out with," says Nicholas Gallinelli, content marketing manager at Flatiron School.
And like lots of music festivals, food was one of the main events. The choices—this year vegetarian, since WeWork announced last month that it was going meat-free—were served from dozens of food trucks
Many of the trucks were open until late at night, and some—especially the waffle stand—developed quite a following.
"Any chance we can get a WeWork waffle stand at HQ?" says Gabriella Ziccarelli, commercial counsel for digital and technology transactions. "I'm having withdrawals without my daily Nutella and banana waffle."
Although the event had a festival atmosphere, there were dozens of learning sessions with well-known speakers. A discussion between Tim Ferris, author of The 4-Hour Workweek, and Julie Rice, cofounder of SoulCycle and current chief brand officer at WeWork, was standing room only.
"I am so grateful to be a part of a company where we get the opportunity to learn from those who have a great deal of experience in their field," says Samuel Bertken, a community associate at San Francisco's WeWork 600 California St. "The workshop on negotiation was enlightening. I feel so empowered by the skills they shared, and it was incredibly entertaining to boot."
For a lot of WeWork staffers, Summer Camp was a chance to meet up with colleagues. The fact that parts of the venue were out of range for cell phone service made the event even better.
"Summer Camp was my first-time experience camping," says Jhonatan Cardoso, a community manager at São Paulo's WeWork Paulista. "I felt connected to people and far away from technology."
Employees say that those bonds are strengthened every year.
"I love that moment when you realize you're finally meeting that person on the other end of an email thread who you have been working with to make something happen," says Gordon Bronson, head of public affairs in the Western U.S. "That happens over and over at Summer Camp, and it makes me feel like we really are all in this together."
Photos by Fanatic
Rethinking your workspace?