Jay Mulakala recalls one particularly hard-hitting conversation with a potential investor.
"He told us straight up, 'Your pitch sucked,'" says Mulakala.
Mulakala and Andy Putch knew they had a tough road ahead of them when they founded their software company FreeSkies. After all, the two of them had just graduated from the University of Illinois and moved to San Francisco. They were now competing with other companies with years of experience.
"He was very blunt," the WeWork Golden Gate member says, "but he gave us some very good advice, like making sure to captivate the audience in the first sentence and answer the obvious questions without getting too much into the tech."
After listening to all the comments and criticism from investors, they joined together with an app developer and launched CoPilot, which captures high-quality aerial photos and videos on drones. The app hit the App Store earlier this month.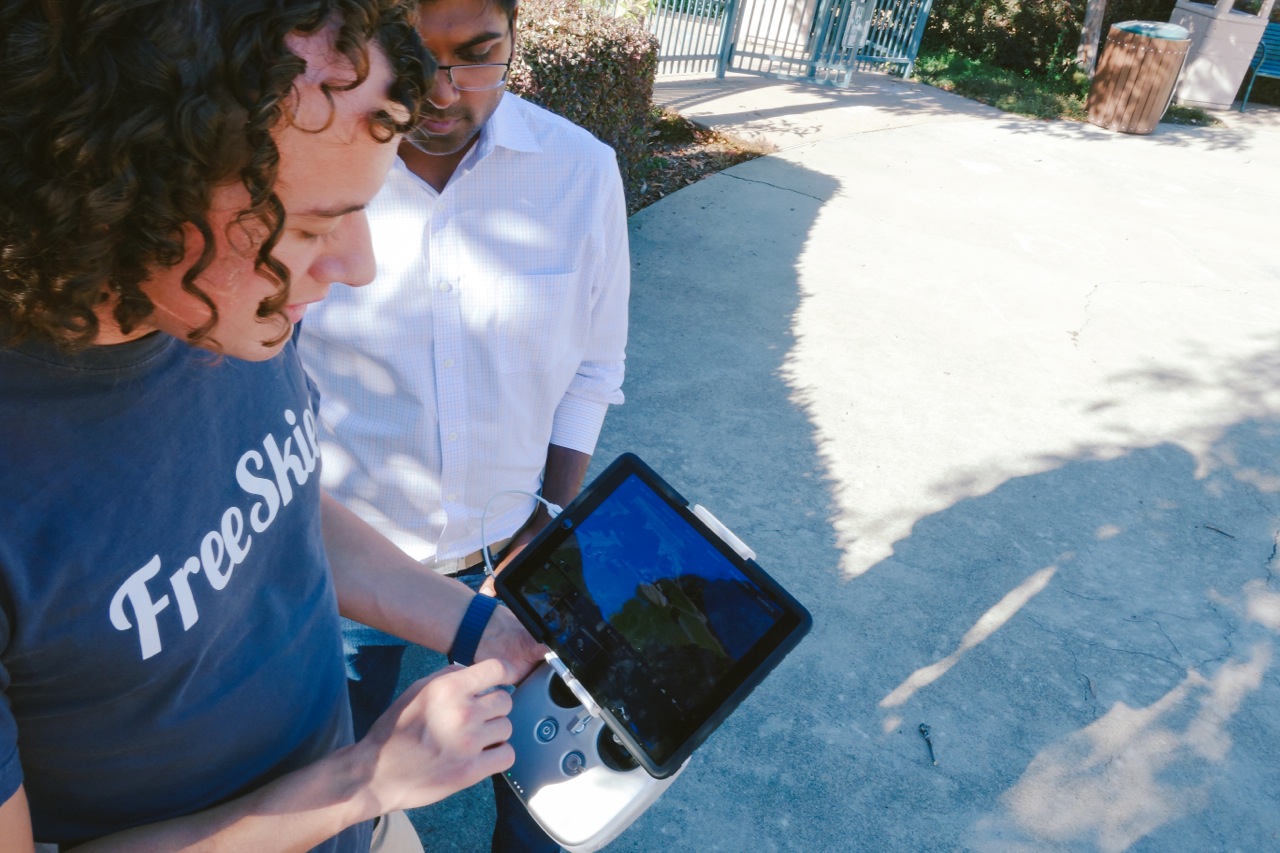 The friends might not have "street cred," but they've done enough research on drones to get them a seat in front of investors. They're noticeably young, and they've had an internship or two under their belt. And for them, it's not so much about leveraging their experiences as it is about learning how to pitch.
They remember walking into an angel investor competition and noticing that something didn't feel right. They were up against seasoned entrepreneurs who had grinded for decades.
"I've competed in several business competitions in the past where we were put against PhDs, seasoned veterans, and other professionals," Mulakala says. "We realized that we were at a disadvantage when it came to competing against them, but it was important for us to be confident and assert ourselves in the industry we have studied inside and out."
Mulakala and Putch knew that drones were a fairly new industry to many investors, but they didn't realize age would also cause funders to give pause. Some, observing that they were recent graduates, turned them away.
"Several investors in the group came and spoke to us after the conference and gave us some great advice for future investors, but ultimately invested with the founders that had a track record and experience," Mulakala says.
Another hurdle they faced was the timing of their app's release. About two weeks before the launch of CoPilot, they had about 1,000 people on the mailing list who were eagerly awaiting the product. Everything was in place, or so they thought. On the day of the launch, the app wasn't in the App Store.
It turned out CoPilot was still pending approval by DJI, a Chinese drone manufacturing company that FreeSkies partnered with to program its unmanned aerial vehicles. Then it happened—a barrage of angry emails.
"We've talked to our potential customers over the summer, who have been waiting months for this," Mulakala says. "So we got a bunch of angry responses from users when it didn't launch the day it was advertised to. We quickly notified everyone about the delay in getting approval from Apple and sent out emails daily and posted updates on our social media sites to keep people in the loop. "
One potential customer wasn't angry. Instead, he sent an encouraging note to the co-founders.
"He understood the barrage of emails we would be getting because of the delay and that he was supporting us throughout this process," Mulakala says. "It was a wonderful email."
They were finally able to launch, and have gotten good feedback. Altogether, they've raised $45,000 in pre-seed funding, and now they're well on their way to pitching potential investors and building out user experiences on their new app.
Photo credit: Rick Gerharter