Miami may be famous for sun, sea, and sand, but this iconic city has lately become a magnet for entrepreneurs as well as tourists.
In 2017, the Kauffman Index ranked South Florida as number one in the United States for startup activity. A burgeoning tech scene means Miami is emerging as one of the East Coast's most innovative new business hubs. More than a billion dollars of venture capital cash flows into the city each year. Augmented-reality startup Magic Leap, a tech unicorn from the Miami suburbs, has raised over $2.6 billion in funding alone.
Such rapid growth brings with it the need for teams to find a coworking space that meets their unique requirements. Shared offices in Miami are providing agile workspaces for startups, freelancers, and digital nomads in need of places to work and call home, all without the stress of a long-term lease.
In a brand-new partnership with the City of Miami, WeWork is proud to make it easier than ever to move or expand your business there with special offers on flexible workspace. Right now you can get 15 percent off a WeWork All Access membership for up to 12 months with code MIA15. If you're looking for a private office in the Magic City, you can get two months free with a six-month commitment term, or three months free with a 12-month commitment term.
With so many options to consider, finding the best coworking space for your startup can be a challenge. Click here for the full Miami city guide. Let's take a look at six of our favorite shared workspaces in Miami.
Downtown Miami
Southeast Financial Center
Nearby Transit: Government Center (Metrorail), Bayfront Park (Metromover)
Cross Streets: Biscayne Blvd & SE 2nd St
Occupying four floors of this 55-story building, the coworking space at Southeast Financial Center puts teams on the doorstep of Miami's fastest-growing new business neighborhood. The theaters, museums, and retail of downtown Miami surround this beautifully designed shared office. Head to Bayfront Park and clear your head with a peaceful afternoon walk, or entertain clients at the nearby Zuma Miami (sister restaurant to the acclaimed Zuma London), which serves modern Japanese cuisine that's sure to impress.
Inside this shared creative space, you'll find well-designed, comfortable lounges, gorgeous event spaces, and conference rooms designed to inspire productivity. It's a space ideal for hosting cooperative networking and community events of all sizes.
Brickell City Centre
Nearby Transit: Brickell (Metrorail), Eighth Street Station (Metromover)
Cross Streets: SW 7th St & S Miami Ave
What better base for a growing startup than at the core of Miami's financial center? This coworking space in a popular neighborhood has already attracted a vibrant community of entrepreneurs, and not just from the banking sector. Many creative agencies and law firms call this corner of the city home. Nearby LPM is one of Miami's swankiest fine-dining destinations.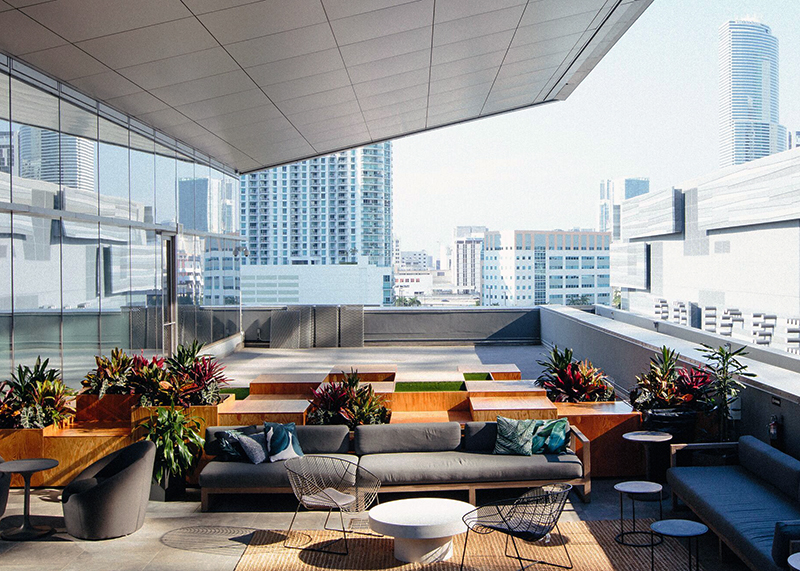 Inside, this grand shared creative space continues to wow. A private outdoor terrace offers views of the Miami River and the city skyline. South American style is applied throughout the airy common areas and sleek private offices, creating a workspace with real character.
Miami Beach
429 Lenox Ave
Nearby Transit: Government Center (Metrorail), Route 120 buses stop outside
Cross Streets: Lenox Ave & 5th St
You don't get much closer to postcard-perfect Miami than this beautiful coworking space in South Beach. Winding bike trails meander through nearby South Pointe Park, while the city's most celebrated seafood restaurants are all within walking distance. This shared office's proximity to MacArthur Causeway makes getting in and out of downtown Miami a breeze.
A nautical theme runs through this creative space. Spacious common areas are decorated with hand-painted life rafts, while convenient amenities such as a barista-run coffee bar, a versatile event space, and a sun-soaked roof deck ensure teams have everything they need to hit their goals.
Coral Gables
2222 Ponce De Leon Blvd
Nearby Transit: Douglas Road (Metrorail)
Cross Streets: Ponce De Leon Blvd & Giralda Ave
Founded by George Merrick in the 1920s, Coral Gables is a tropics-inspired garden city renowned for its tree-lined lakes, art galleries, and the historic Venetian Pool, which was carved out of an abandoned rock quarry almost a century ago. The city's scenic appeal is matched by its booming coworking scene, which has become popular with startups from industries as diverse as tech, finance, and design.
Located over six floors, this convenient shared office space on Ponce de Leon Blvd is well positioned to take advantage of this storied neighborhood. The terrazzo bar and outdoor terrace provide opportunities for casual meetings, while smart private offices and dedicated desks give teams the space they need to thrive.
Giralda Place
Nearby Transit: Ponce De Leon Blvd/Giralda Ave (Coral Gables Trolley)
Cross Streets: Ponce De Leon Blvd & Giralda Ave
Steeped in history and surrounded by booming business, this shared office in Coral Gables is the place to be. Keep your team inspired in our multi-level coworking space, featuring art-filled lounges, bright and airy conference rooms, and sleek private offices. Commuting is simple with onsite bike storage, parking nearby, and easy access to the Coral Gables Trolley. Looking to break up the work week? Meet clients for a coffee at our custom terrazzo bar, or form new connections at an after-work networking event.
Wynwood
Wynwood Garage
Nearby Transit: Santa Clara (Metrorail)
Cross Streets: NW 27th St & NW 3rd Ave
Creative teams will feel at home at Wynwood Garage, a coworking space in Miami's eclectic arts district and its fast-growing community of local design agencies and freelancers. Celebrate team wins at the nearby Alter, a trendy cocktail bar serving refined American dishes in a cool, modern dining room.
This shared office in Wynwood features many convenient amenities for teams of all sizes, from on-site parking and EV charging stations to focus-enhancing private offices and flexible hot desks.
Whether you're a freelancer looking for an occasional desk or a startup looking for an office space that can grow with your team, there's a WeWork location in Miami to suit your needs. These coworking spaces offer a collaborative environment for businesses of any size and type, in the most sought-after, conveniently located buildings.
Steve Hogarty is a writer and journalist based in London. He is the travel editor of City AM newspaper and the deputy editor of City AM Magazine, where his work focuses on technology, travel, and entertainment.